Car rental Cádiz
Find the best price for car hire in Cádiz. Goautos.com compares prices from well-known car rental companies in Cádiz. Search now to see the best deals!
Cádiz guide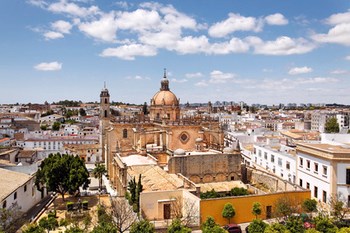 Cadiz is located in the south of Spain and is the capital of the province of the same name.The city is located on a peninsula on the Atlantic coast – connected with the mainland by an 8 km long, narrow strip of land. In addition, runs one of the world's longest bridges (3.5 km) across the Bay of Cadiz to Puerto Real. Cadiz has approx. 131,000 inhabitants (2010), and is part of the region of Andalucia.
Cadiz is considered to be one of the oldest cities in Europe. It was founded as early as 1100 BC Kr. by the Phoenicians, and through the subsequent history belonged to different nations: kartagenerne, Romans and Arabs. Since the 1200s, however, it has been one of Spain's most important port and trading city – a position it still has.
Cadiz is beautiful with tall white houses with flat roofs and tower, palmealleer and parks.
The town is surrounded by a rampart with bastions and forts, which shows that it has been greatly strengthened.
Among the public buildings dominate the old and the new cathedral on the "Plaza de la Catedral". The oldest cathedral dates from 1260 (rebuilt in 1600), while the youngest was built in the period 1722-1838.
Cadiz is otherwise an art academy with a fine collection of Spanish painting.
There are several beaches in Cadiz, which attracts many tourists. The coastline where Cádiz is often called the Costa de la Luz (Cádiz).
Every year, some of the world's most famous carnival held in Cadiz, which is popular for both tourists and locals.
The nearest airport is Jerez Airport, located 48 km northeast of Cadiz.