Car rental České Budějovice
Find the best price for car hire in České Budějovice. Goautos.com compares prices from well-known car rental companies in České Budějovice. Search now to see the best deals!
České Budějovice guide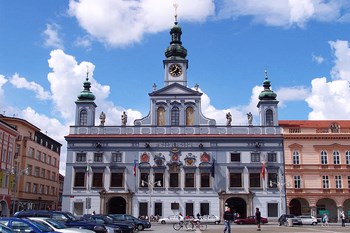 České Budějovice is a city in the Czech Republic and the largest city in the region of South Bohemia. It lies on the Vltava River, 130 km south of Prague. The city has a population of 96,053 inhabitants (2009).
České Budějovice is known worldwide for its production of Budweiser beer. Factory Pivovar Budejovicky Budvar has been brewing beer since the 1200s when the city was founded. Other important industries are the manufacture of pencils, porcelain and machinery.
The railway from České Budějovice to Linz in Austria is one of the three oldest in Europe, was constructed in the period 1824-1832.The city is Europe's oldest railway station.
The old town has a well preserved architecture from different periods, both Gothic, Renaissance, Baroque and 1800's. The old town hall with murals rebuilt in Baroque style from 1730 and the tower "Cerna vez", which means black tower, facing the one of Europe's largest squares.
Some 30 kilometers south, the town of Cesky Krumlov is another popular tourist destination in southern Bohemia. Since 1992 the city is from the 1200s on the UNESCO list of world heritage.
The nearest airport is Airport České Budějovice, just outside the city. The airport    Prague Václav Havel Airport. Located a few hours running to the north.