Car rental Fagernes
Find the best price for car hire in Fagernes. Goautos.com compares prices from well-known car rental companies in Fagernes. Search now to see the best deals!
Fagernes guide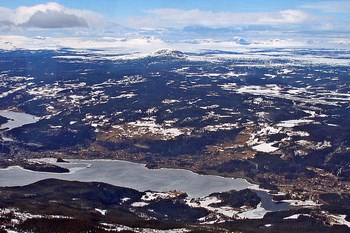 Fagernes is a village in North Aurdal municipality in Oppland. Fagernes has 1762 inhabitants (2012), and is located at Strondafjorden, right in the southern part of Norway.
The place is an important tourist center, both summer and winter. Valdres has become a famous brand of the traditional Norwegian dish rakfisk, and in November held Norwegian rakfisk festival where it is eaten and sold several tons of rakfisk. From being a small event since it started in 1990, the festival had as many as 25,000 participants in 2009.
Fagernes cultural center with a combined stage and cinema. The cinema was upgraded in 2010 and now has the ability to view 3D movie.
Valdres Folk Museum located on Storøya in Strondafjorden is one of the largest open air museum. In addition to the many historic buildings there are great collections of silver, instruments, clothing and hunting weapons. Folk Music Jørn Hole Festival held at the museum each year. It has been going since 1960 and is the country's oldest folk music festival.
From Fagernes is the public transportation to places like Oslo, Gol, Gudbrandsdalen Jotunheimen and to the West Coast in general. From its establishment in 1906 and until 1991 was Fagernes Valdres Railway terminus. Now is the souvenir shop in the old station and it has been landscaped pedestrian and cycle path on the old railway line.
On the hill north of the village is Fagernes Airport, Leirin. Here there are daily direct flights to and from Oslo.