Car rental Gävle
Find the best price for car hire in Gävle. Goautos.com compares prices from well-known car rental companies in Gävle. Search now to see the best deals!
Gävle guide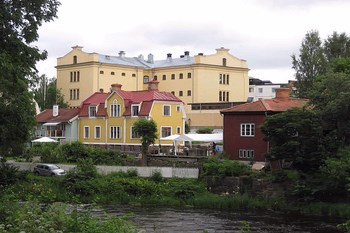 Gävle is a city located in Gävleborgs in Sweden 180 km north of Stockholm.The city lies at Gävlebukten where the river empties Gavleån in the Baltic Sea, and has 71,033 inhabitants (2010).
Gävle was called town privileges already in the 1300s, and was at the end of the 1700s the leading trading center along the Norrland coast.
Culture is central to the city, here is Sweden's northernmost symphony itself. Gävle Const Centrum is a meeting point for contemporary art in the region. The city also has several theater companies, theater and concert from 1878. The city is doing well in sports, especially in team sports like hockey and football.
Gävle is known for its production of coffee Gevalia manufactured by Kraft General Foods Scandinavia exported under several brand names. Gevalia is especially popular in America, and makes several flavors that are not available on the European market. But it is possible to visit the factory and get a taste of the different tastes.
Otherwise Gavle made the city known internationally. Gavle is a great Christmas goat in the grass, about 13 feet high, like every year since 1966 set up on the castle square. But at midnight New Year's Eve that year, someone set fire to it. In 2005 there were 22 time that the goat was burned. This unfortunate tradition is illegal and not popular among city residents. In some years tried to long trestle in fireproof material. Now sold small Gavle that goes to income so that it can be guarded.
The nearest major airport is Borlänge Airport 121 km from the city of Gävle. Stockholm-Arlanda Airport is 137 km away.