Car rental Jakarta
Find the best price for car hire in Jakarta. Goautos.com compares prices from well-known car rental companies in Jakarta. Search now to see the best deals!
Jakarta guide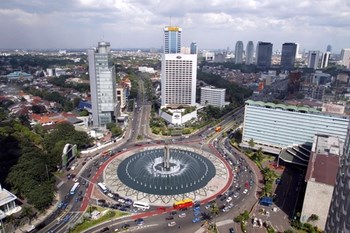 Jakarta (formerly Batavia and Djakarta) is the capital of Indonesia, and has about 9.6 million inhabitants (2010).The city is almost completely grown together with several smaller neighboring cities and metropolitan area – called Jabotabek – has a total population of over 28 million.
Jakarta is located on the northwest coast of the island of Java, at the mouth of the river Ciliwung. In winter, the city and surrounding area are often subjected to strong monsoon winds and floods.
There has been a settlement here since the 400's, and the story has since been fairly turbulent. Netherlands did in the 1600s the then Batavia to the center of their East India trade, and the Dutch domination lasted until Indonesia became an independent state in 1949.
The cityscape is characterized by the many different eras in Jakarta's history, especially colonial – where both Dutch, Chinese, and Arabic culture prevailed. The modern part of the city is dominated by wide boulevards and especially along the main street "Jalan Thamrin" it listed a number of skyscrapers.
Jakarta offers several interesting museums – including National Museum Gajah. Otherwise, both the old town and the traditional harbor Sunda Kelapa – with more permanent anchored schooners – well worth a visit. Other typical tourist attractions include Sea World and Ragunan Zoo, which has around 300 different animal species to show off.
A popular cultural attraction in town, the Art Centre "Taman Ismail Marzuki". This is home to such Jakarta Art Institute and Jakarta Planetarium.
Jakarta is also a city where you can do many exciting purchases. In addition to a number of large shopping malls, there are several exciting and traditional markets. Otherwise Jakarta is a gourmet city, where in addition to international menus can also enjoy Indonesian dishes, which are often based on seafood (fish and shellfish), as well as rice, coconut milk and fresh vegetables.
The climate is tropical in Jakarta – with very hot summers. The best time to visit northern Europeans is therefore the period from November to March.
The nearest airport is Soekarno-Hatta International Airport, which is approx. 32 km northwest of downtown. This is the largest airport in Indonesia.