Car rental Karasjok
Find the best price for car hire in Karasjok. Goautos.com compares prices from well-known car rental companies in Karasjok. Search now to see the best deals!
Karasjok guide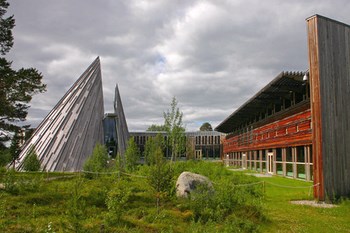 Karasjok (Northern Sami: Kárášjoga gielda) is a village and the country's second largest municipality by area. The municipality has 2,733 inhabitants and the village 1885 (2012). In the west the municipality of Kautokeino to Alta in the west, to the Por Tana in the north. In the east it borders to Finland, and it is the Tana river that has defined the border between the two countries.The village lies on the River Tana.
Animal husbandry and agriculture is still the main industry in Karasjok, while hunting, fishing, berry picking and craftsmanship are key subsidiary sources. Karasjok is an important center for Sami tradition and culture, here is important institutions that the Parliament (Sámediggi) NRK, the Sami Collections, Sami specialist clinic and Sami Art Centre. There is also Sami special library, Norwegian Saami Council, Sami High School and Sami folk. Approximately 80% of the population speak Sami, and both Sami and Norwegian are used as the administrative language.
Parts of Southeast tundra, which is present largest contiguous wilderness area, located in Karasjok.There are good opportunities for outdoor recreation and fishing. Tourism in the village and the municipality is growing.
Karasjok has a cruciform church from 1807. The church is one of the few wooden buildings left standing after large parts of Finnmark was burned down during the Second World War, and it is also the oldest remaining church in Finnmark.
The nearest airport is Lakselv airport located 70 km away. Ivalo airport in Finland is 150 miles from Karasjok.