Car rental Kraków
Find the best price for car hire in Kraków. Goautos.com compares prices from well-known car rental companies in Kraków. Search now to see the best deals!
Kraków guide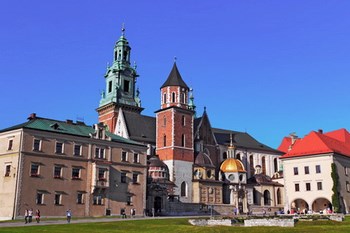 Kraków lies in the southern Poland, on the river Wisla – and has approximately 850,000 inhabitants (2010).Krakow is Poland's second largest city, and it is considered to be the country's cultural capital. It is also an important center for trade and industry.
Krakow's history as a city dates back to ca. 800 ADKr., Starting with a mighty fortress. A period in the Middle Ages was the Polish capital, but was completely destroyed by the Tatars in 1241. After being rebuilt, it continued to have a central position in Poland.
Kraków has many important cultural and educational institutions – including Poland's oldest university (founded in 1364) and a number of other colleges and academies. Among the city's many museums, we find Czartoryski Museum (where such can see the work of famous renaissance painters) – and the Jagiellonian Museum (which houses the famous Copernicus' globus).
Old Town in Kraków (Stare Miasto) contains a number of architectural and historical interest, and is entirely a UNESCO World Heritage Site. Many of the buildings in the Renaissance style, but also Gothic and Baroque is represented. The former fortress walls and moats around the old town forms the foundation of a beautiful park. Two of the old fortress towers are still intact. Right in the historic center, the old town square from the 1300s (Market Square), surrounded by several monumental structures, including St. Mary's Church (built in 1355). Also the big, famous Market Hall Sukiennice located here. There you can also see exhibitions of Polish art. Also, the great Hall tower from the 1300s mentioned.
In the south of the old city is the limestone cliff Wawel, where both the powerful Cracow Cathedral and the old royal palace (both from the 1300s) is located. The cathedral is more of Poland's ancient kings and heroes buried, and the courtyard around the castle is considered to be one of Europe's most beautiful.
Also Kazimierz district is worth a visit, primarily because it represents the historical center of the city's strong Jewish culture. There are also significant Jewish Museum.
Kraków was named the European Capital of Culture in 2000.
The nearest airport is KRK Airport, located 11 km west of downtown.