Car rental Le Mans
Find the best price for car hire in Le Mans. Goautos.com compares prices from well-known car rental companies in Le Mans. Search now to see the best deals!
Le Mans guide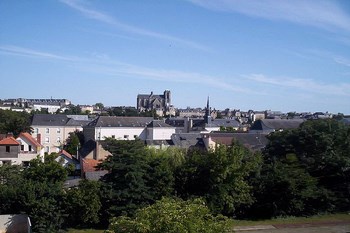 Le Mans is located in northwest France – In the region of Pays de la Loire – and is the largest town in the department of Sarthe.Le Mans has approximately 142,000 inhabitants (2009), but it is estimated suburbs – rising population of over 300,000. The town is beautifully situated on the River Sarthe.
Le Mans is a commercial center for the region and a major hub for rail and road. It runs high-speed trains from the city to both Paris and Nantes.
Le Mans is perhaps most famous for its racing tracks, located 5 km outside the city center. It hosts the annual race "24 heures du Mans". It's also a popular car museum on site – an exhibition of over a hundred cars.
The old town of Le Mans is a major tourist attraction, and here one can see the remains of the Roman city walls from the late 300's, the great gothic St. Julien du Mans Cathedral from the 1200s (which is particularly known for its beautiful stained glass windows) , the Palace "Palais des comtes du Maine" from the 1400s and the ruins of a Roman bath.
Otherwise, the town has an archaeological museum, a botanical garden and several parks and green spaces.
The nearest major airport is Nantes Airport – Atlantique, which is located 196 km southwest of Le Mans. Also Paris – Charles de Gaulle Airport is an option, located 207 km from Le Mans.