Car rental Lübeck
Find the best price for car hire in Lübeck. Goautos.com compares prices from well-known car rental companies in Lübeck. Search now to see the best deals!
Lübeck guide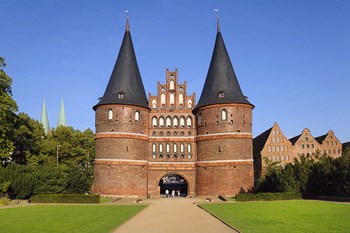 Hanseatic city of Lübeck is the second-largest city in Schleswig-Holstein in northern Germany, and one of the major ports of Germany.It is situated on the river Trave and was for several centuries the "capital" of the powerful Hanseatic League. The city has a population of 210,577 (2011) inhabitants. Lübeck's Old Town is listed on a ridge between the rivers Trave Wakenitz and linking it to the Baltic Sea 15 km further north.
In 700 years, between 1226 and 1937, Lübeck was an independent city. In 1937 came Greater Hamburg Act in 1937 so the city lost their independence and came under the Prussian province of Schleswig-Holstein.It is believed that the reason the city lost independence is that Lübeck authorities refused Hitler to make a speech in the city during the election campaign in 1932
The bombing of Lübeck under 2 World War I destroyed three of the main churches and greater parts of the village. The old town is a UNESCO World Heritage Site and is famous for the annual traditional Christmas fair and beautiful examples of architecture from the Middle Ages. Lübeck is regarded as the foremost example of an independent city in medieval Northern Europe.
Lübeck is also famous for its marzipan production. According to a local legend was invented in Lübeck marzipan in response to the military siege or famine. The story is that the town ran out of all foods except stored almonds and sugar that was used to make loaves of marzipan
Lübeck is a rich culture and has many small museums, one of them is Lübeck Museum of Puppet.
Lübeck Airport is located 8 miles south of Lübeck.