Car rental Majorca
Find the best price for car hire in Majorca. Goautos.com compares prices from well-known car rental companies in Majorca. Search now to see the best deals!
Majorca guide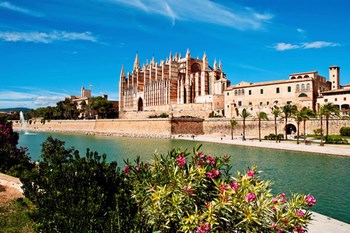 The Spanish resort island Majorca in the Mediterranean, and is the largest of the Balearic Islands. Majorca has about 870,000 inhabitants (2011), and is approx. 200 km south of Barcelona.
Since the 1950s Majorca has been a popular tourist destination, and the island today receives 12 million visitors a year. The island's pleasant Mediterranean climate and the many wonderful beaches along the coast are enough Majorca main attraction, but the island also boasts a rich cultural scene with art galleries, museums, historic monuments and parks.
Highest point on Majorca is Puig Major (1,445 m), located in the northwestern part of the island. Farther south are lower mountains (500-600 m), and the mountains are fertile lowlands.
Tourism is mainly concentrated on the island's southern and eastern coasts, but there are also some popular tourist resorts on the north and west coasts.
The capital of Majorca named Palma de Majorca, and is located south / southwest of the island. The city has about 400,000 inhabitants, where there is great shopping, vibrant nightlife, beautiful architecture, museums and historical monuments. The famous La Seu Cathedral in the capital is a major tourist attraction, and was erected in the 1300s.
Some popular destinations (excluding beaches) in Majorca include caves of Porto Christo, the Roman ruins in Alcudia and the Port of Cale Figuera. The island also has a number of water parks, bilsafari park and historic gardens beautiful.
The main airport on the island – Majorca Airport – 8 km east of Palma de Majorca.