Car rental Pärnu
Find the best price for car hire in Pärnu. Goautos.com compares prices from well-known car rental companies in Pärnu. Search now to see the best deals!
Pärnu guide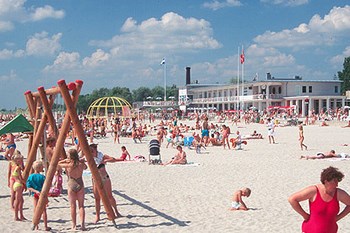 Pärnu, which in German is called Pernau, is one of Estonia's most important cities. It is located approx. 110 km south of capital Tallinn – the Gulf of Riga – and has about 45,000 inhabitants (2010).
Through the center runs the Pärnu River, which along with its strategic coastal location made Pärnu an important port city – known for its quality, ice-free port.
In the Middle Ages Pärnu related to Hansa-associated, and trading has been central to the city's business right up to the present time. Today Pärnu is best known as a popular swimming and spa resort. It is often called "Estonia's summer capital."
Among the sights we find several historical and architectural gems. Among these is the Red Tower – which is the remaining remnant of the medieval fortress Pärnu. This was in the 1300s an integral part of a defense system with a series of towers which surrounded the city.
Another popular attraction is the famous mud baths (which now also includes a spa center). It was built in 1927 in neoclassical style façade reminiscent of a Greek temple.
Otherwise Pärnu Estonia's most important festival, and culture and nightlife is large and varied. The beautiful seafront – Pärnu Beach Boardwalk – is a popular meeting place in the summer months. The inviting swimming beach is quality stamped with blue flag and is considered one of Estonia's best.
The nearest airport is Pärnu Airport, which is approx. 4 km northwest of the city.