Car rental Tallinn
Find the best price for car hire in Tallinn. Goautos.com compares prices from well-known car rental companies in Tallinn. Search now to see the best deals!
Tallinn guide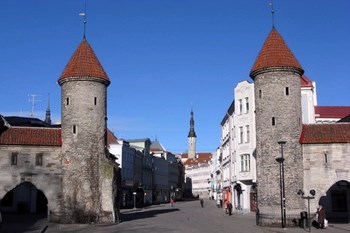 Tallinn is the capital of the Republic of Estonia.With its 392   231 inhabitants (2012) it is also the largest city in Estonia.Tallinn is situated on the northern coast of the country, in what is called Finlandsgulfen, 80 km south of Helsinki. It is an important port.
Tallin was under Swedish control after the Livonian War in 1561 until they lost their possessions in the Baltic to Russia in 1710 during the Great Northern War.Tallin was the capital of Estonia became independent in 1919. It was there again in 1991 after the Soviet Union's fall.
The Tallin is most known for its medieval old city, Vanalinn. It was listed on the UNESCO World Heritage list in 1997 and in 2011 was the European Capital of Culture Tallinn. Walking through the old town gives one the feeling of being immersed in an adventure where one goes in romantic alleyways between historic buildings and Gothic churches. Viru Street is the busiest street in the old town, and one can go on to the entrance to the old town (Viruvärav) with two towers. Behind this door begins the modern city, where the major hotels and shopping centers (Viru Keskus) is located. Here is a market where one can buy ethnic handicrafts and woolen products.
Lennart Meri Tallinn Airport is located approximately four kilometers from the center of the eastern lake Ülemiste.