Car rental Toledo
Find the best price for car hire in Toledo. Goautos.com compares prices from well-known car rental companies in Toledo. Search now to see the best deals!
Toledo guide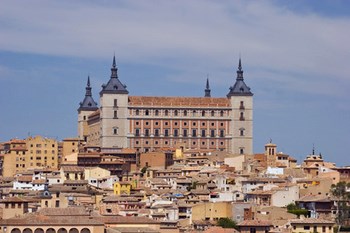 Toledo is located in central Spain On the banks of the river Tajo – approx. 70 km southwest of the Spanish capital Madrid.The city has about 83,000 inhabitants (2011), and is the capital of the autonomous community of Castilla-La Mancha.
Toledo is a very old city, it had an important position already in Roman times. The city had otherwise its great heyday in the late Middle Ages, when it was Spain's second largest (after Córdoba ) – and the population should then have been almost 200,000.
Toledo is particularly known for its steel production, and here it has been made swords and blades continuously since Roman times. Today it is tourism that has taken over as the primary source of income.
Most historical attractions of Toledo is located in the old town – which is idyllically located on a cliff. Around the center is a large part of the double walls of medieval well preserved – and within the walls, we find many examples of the great Moorish and Jewish architecture along the picturesque, narrow streets.
At the highest point sits the impressive Alcázar. Another dominant building is the femskipede Cathedral in Gothic style, erected between 1226 and 1493. It is recognized from a distance because of its two towers, and inside the cathedral, you can experience several major works, including the famous El Greco. There is otherwise a private El Greco Museum in Toledo.
Over the river Tajo can walk up a couple of very old bridges. The most famous of these – Alcántarabroen – was constructed by the Romans and then the 800's rebuilt by the Moors. Toledo's old town center is full of UNESCO's World Heritage List.
The nearest airport is Madrid-Barajas International Airport, located about 98 km northeast of Toledo.