Car rental Gdańsk
Find the best price for car hire in Gdańsk. Goautos.com compares prices from well-known car rental companies in Gdańsk. Search now to see the best deals!
Gdańsk guide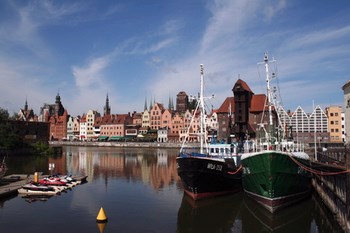 Gdańsk (German: Danzig) is located in northern Poland, more specifically the Wisla river which flows into the Gdańsk Bay.The city itself has a population of approximately 457,000 (2010), and together with neighboring towns Gdynia and Sopot, a larger urban region with more than 1 million inhabitants ("Tri-City").
Gdańsk – together Gdynia – Poland's main port, and the ports of the two cities are managed as one unit.
The traditional industries such as shipbuilding, petrochemical, chemical and food industries are still important, but since the 1990s there ar undergone significant restructuring of other industries, and among newer growth industries are electronics industry, computer technology, telecommunications, cosmetics and pharmaceuticals.
Gdańsk discussed the first time in the year 980, and was a Hanseatic in the 1200s. In 1308 it was conquered by the Teutonic Order. From the 1300s and until 1945, the city is often referred to by its German name, Danzig. Later, the city has been under alternating rule, but has since 2 World War II was one of Poland's most influential cities.
Gdańsk is also an important educational and cultural center, with universities, colleges, research institutes, national museum, opera, zoo etc.
Gdańsk was previously known for its architectural monuments. After the great destruction during the Second World War, most of today rebuilt. This includes the Old Town (Stare Miasto) with its gabled houses from the 1500-1700s and narrow, winding streets, and the beautiful and impressive old square "Long Market." The richly ornamented Mary's Church (built in the period from 1343 to 1502), for a large part destroyed in 1945, is one of the largest in Europe (length 105 m, width 66 m, tower height 78 m). The city also has many other splendid churches. Specific structures are also Krantor from 1411 with maritime museum and the Renaissance town hall in 1605, with its 82 m high tower.
A major tourist attraction is also the old Crane "Stary Zuraw" from the 1300s, where today there is a maritime museum.
The nearest airport is Gdansk Lech Walesa Airport, located 12 km northwest of the city.