Car rental New York
Compare prices and find cheap car hire in New York from well-known and local car hire companies. Insurances and unlimited mileage are included. Save up to 70% on car rental in New York through us.
New York guide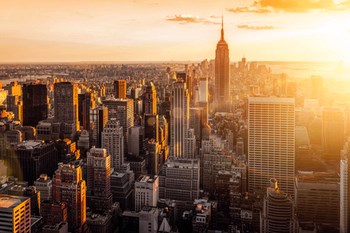 New York is the largest city in the United States, and is located in the state of the same name – more specifically at the end of the Hudson River. In New York itself, there are about 8.2 million people (2011), but if the entire metropolitan area (which also includes Long Island/Northern New Jersey) population rises to a staggering 19 million.
New York is probably the most multicultural city in the world – a melting pot for many cultural traditions. It was founded as a Dutch colonial city in 1626 under the name Nieuw Amsterdam, and was given its current name in 1664.
For a brief period (1789-90), New York was the capital of the United States – but did not take the position of the largest city in the United States until 1810. From that point on, the city underwent rapid growth – not least due to the opening of the Erie Canal in 1825. It connected an important connection to "The Great Lakes" – and led to New York developing into North America's largest port city. Immigrants from all corners of the world eventually flocked to.
New York is divided into five boroughs, so-called "boroughs". The central district is Manhattan, which is the center of the original city. It is located on an island between the Hudson River and the East River. East of Manhattan is the mainland Bronx, while the western districts of Queens and Brooklyn are located on Long Island. The fifth district is Staten Island.
Manhattan is still New York's administrative and economic center, and is divided into three "zones": Downtown, Midtown and Uptown . The street pattern resembles a grid, and all streets have only numbered names (1st Street, etc.). The only thing that breaks the symmetrical pattern is the famous street Broadway – which goes slanted upwards from Battery Park in the far south of Manhattan. The reason for this breakup is that Broadway was originally an old country road.
Attractions
The attractions in New York are so numerous that here only a few. The city has some of North America's most central art museums. The foremost of these are the "Metropolitan Museum of Art", "Museum of Modern Art", "Guggenheim Museum", "New Museum of Contemporary Art", "Frick Collection" and "Museum of Primitive Art". Other notable cultural institutions are the New York Philharmonic Orchestra, the Metropolitan Opera and New York City Ballet.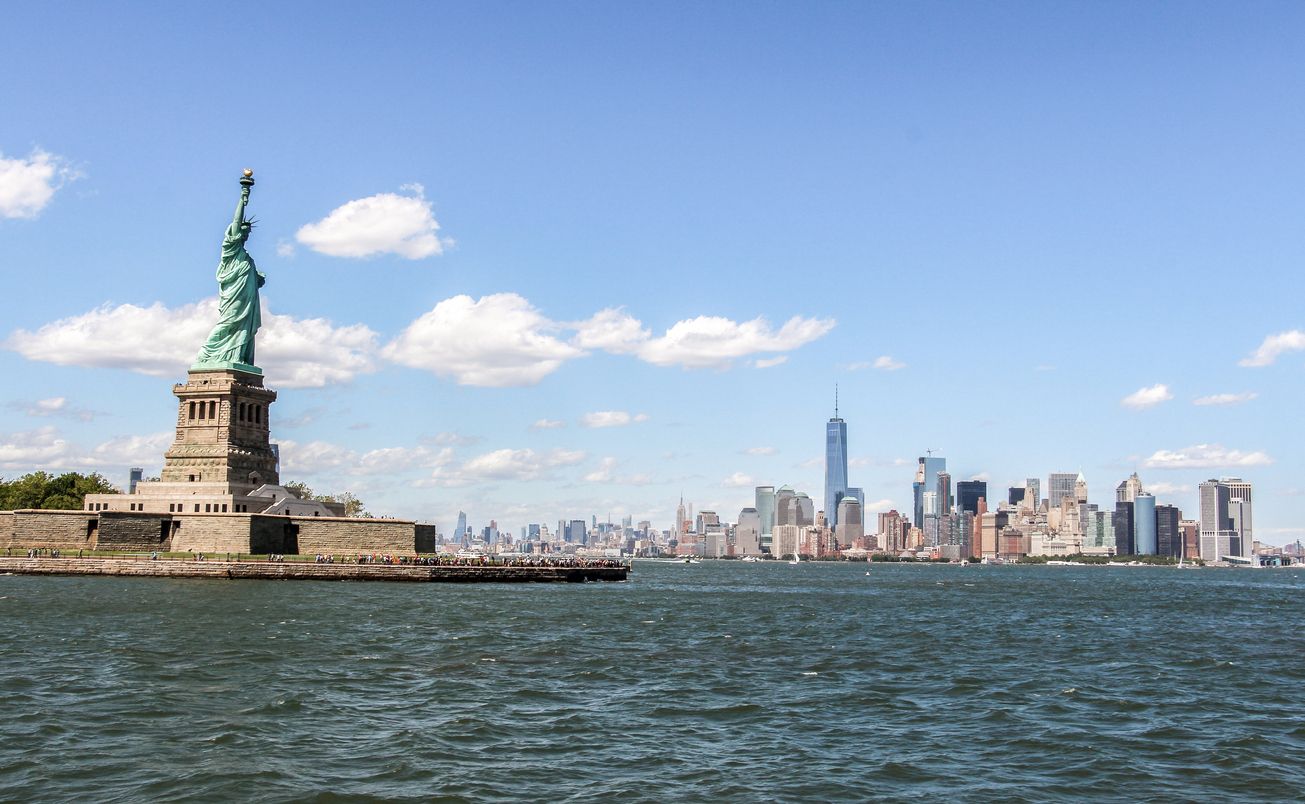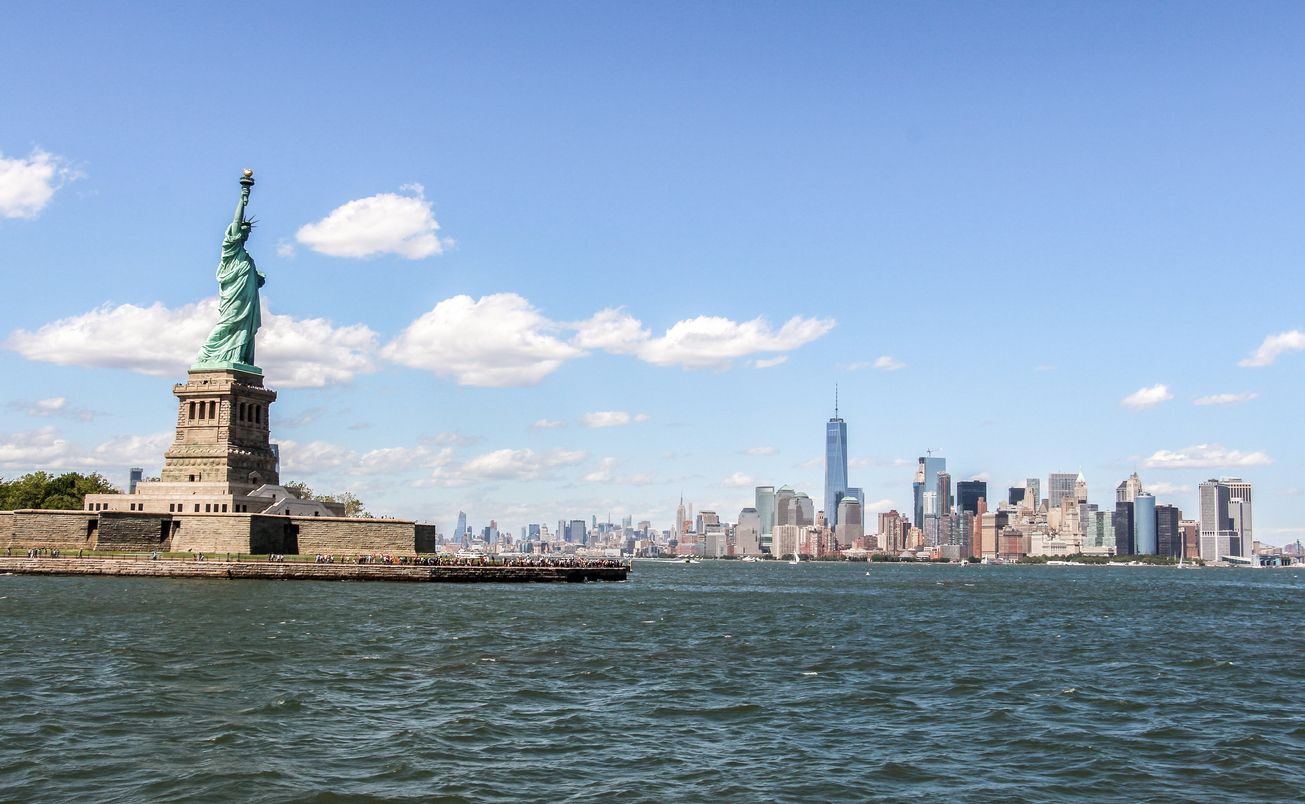 Otherwise, the Statue of Liberty – the Statue of Liberty – is at the entrance to the city, one of the world's most photographed attractions. It was given as an official gift from France, and was unveiled in 1886. Also, the 381-metre skyscraper Empire State Building is among the most popular sights in the world city. If the antenna at the top is counted, the highest point rises more than 440 meters above the ground. And as a shopping city, New York can offer virtually everything.
Explore New York with car hire
If you're inthe Big Appleand want to see a little more of america's East Coast, car hire is usually the easiest means of transport. The east coast has many places worth visiting, both domestically and out to sea. Here are some of the most popular driving destinations that have New York as their starting point.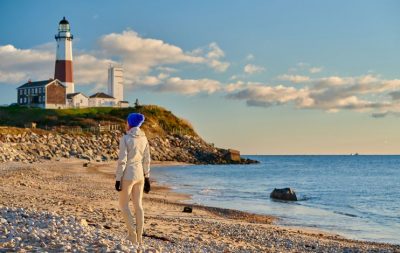 Long Island – Among the world's finest sandy beaches
People in New York like to go to the beach, especially in summer when the temperature is at its highest. On this part of america's east coast, people are somewhat spoiled when it comes to beautiful beaches. Many of the best and finest are located on Long Island, the vast peninsula that runs straight east from Manhattan.
In this area, many of the city's richest have their summer houses on the beach plot, but most beaches are still accessible to anyone. Coopers Beach and Main Beach are considered among the best places to go. There is the sand chalky white, the sea welcoming, and in both places there are more than enough hotels, eateries, and activities to take care of.
From Manhattan in New York to Coopers Beach outside Southampton it is about 155 kilometers. The driving time will be about 1 hour and 45 minutes.
To Main Beach in East Hampton, and almost at the very edge of Long Island, it's about 100 miles . The driving time from Manhattan will be about 2 hours.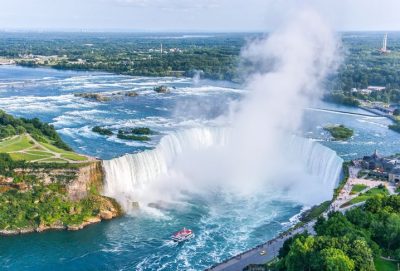 Niagara Falls – One of america's greatest sights
Niagara Falls are three waterfalls located almost on top of each other. This is one of America's most famous natural phenomena, and among the main sights. The waterfalls are the end of the Niagara River, which connects the Great Lakes of Lake Erie and Lake Ontario together.
They are also located on the U.S.-Canada border, with the city of Toronto close by. Canada Seeing Niagara Falls up close is a unique nature experience, although the place can be packed with tourists. There are many activities here that appeal to most, including viewing platforms, observation towers, aquarium, adventure center, restaurants on the edge of the waterfalls, and you can get a boat ride through the wild water.
From Manhattan to Niagara Falls it is about 400 miles. The runtime without stop will be between 6 and 7 hours.
If you have time, it is recommended to visit the Canadian metropolis of Toronto in the same slap (80 miles further). First check with the car rental company about the rules to bring your car into Canada.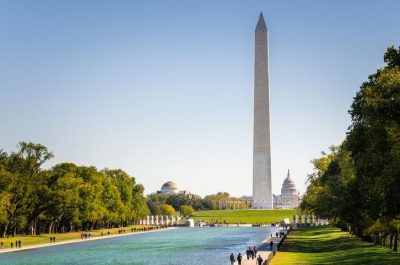 Washington DC – Capital of the United States
Those who have time and rental car when they are in New York should consider a drive to the nation's capital, Washington DC. Here you can see the White House,Congress, Lincoln Memorial, Jefferson Memorial, Washington Monument, and many other historic buildings and memorials that most people have heard of before. Washington is also a city known for its many good eateries, good shopping, and not least many museums.
From Manhattan to downtown Washington DC, it's about 230 miles. The runtime without a stop will normally be between 3.5 and 4 hours.
You pass the cities of Philadelphia and Baltimore on the road to DC, and the tour can also be combined with a visit to Atlantic City.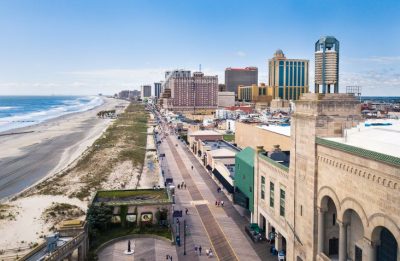 Atlantic City – East Coast Las Vegas
Atlantic City is located in neighboring New Jersey, just south of New York. The city is known for its beautiful beaches, plank roads, casino and luxury hotels. It had a golden age in prohibition, because in Atlantic City the alcohol ban was more or less overlooked. It made people come here to have fun. Atlantic City thus became an important part of the criminal business empires of mafiosos such as Al Capone and Charles "Lucky" Luciano.
The city remains a very popular destination, especially for New Yorkers on a weekend break. It's certainly not as livat here as in the old days, but the city still has charm and should be visited if you're on this edge of the United States and have got you a rental car.
From Manhattan to Atlantic City it is about 210 kilometers. Most of the trip goes on the freeway, and the driving time will be about 2 hours in regular traffic.
Parking and traffic with car hire
It's usually hard to find free street parking in New York City, and especially in Manhattan. If you find space, be careful not to leave your car longer than legal, or longer than you paid for. In New York, the police are quick to hand out fines, and the car can be towed away. The definitely best options are to use one of the many parking garages, or put the car from you in the garages of a hotel. Please enter the prices in advance. Some parking garages are significantly more expensive than others, even if they are located in the same neighborhood.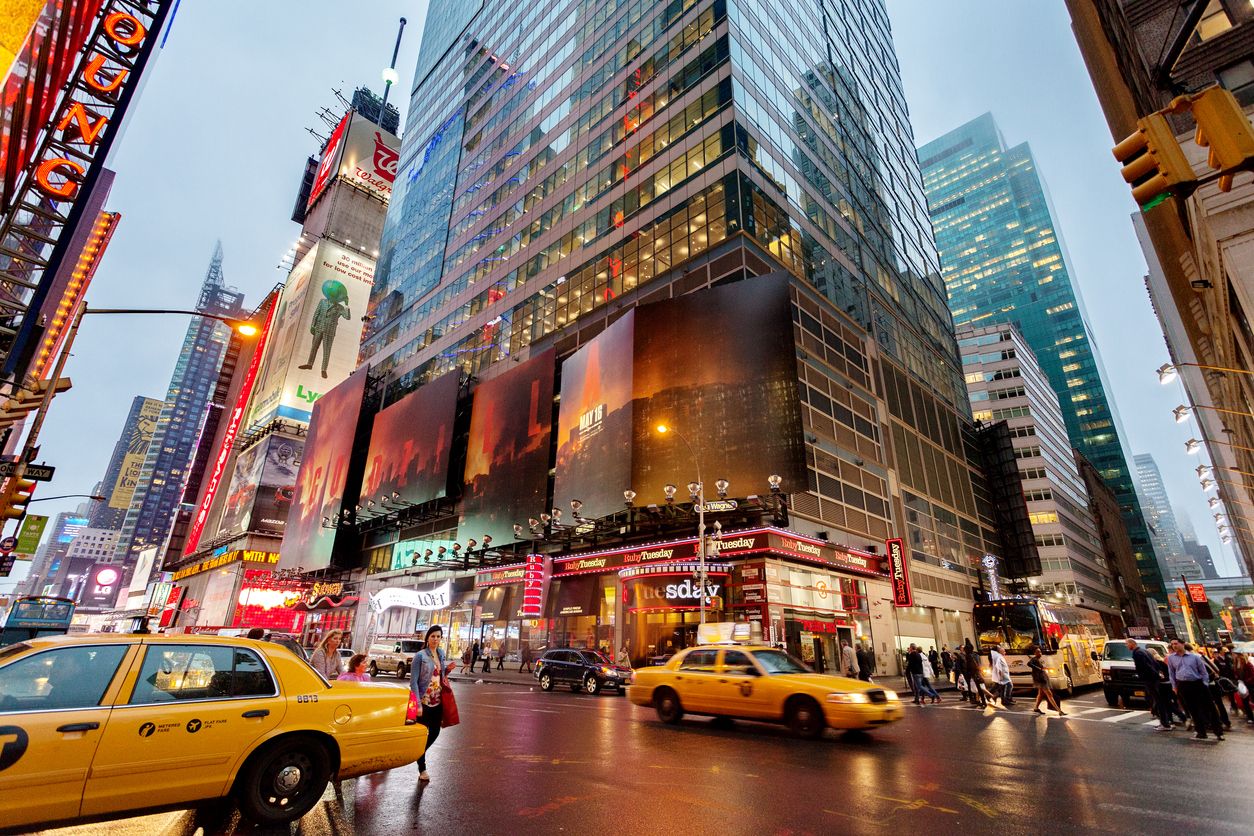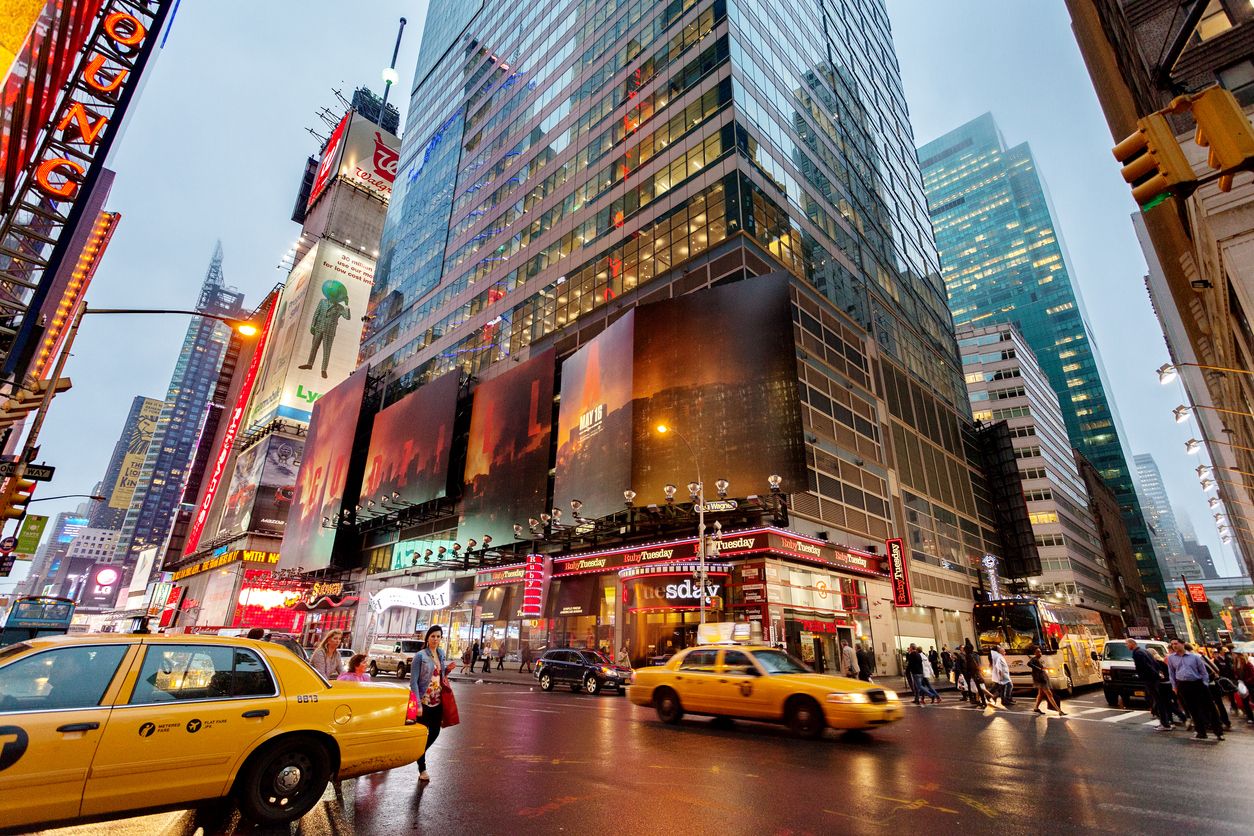 Traffic in New York, and especially in Manhattan, can be both dense and hectic. The same is true during rush hour at Freeways and Expressways which go in and out of the city centre. Many residents believe it is both impractical and cumbersome to drive in the city. Although mostly well adapted for car traffic, there are so many cars on the roads that you take a very long time to get between. The metro and taxi are usually far better option.
Note that you are not allowed to turn right at a red light in New York. This is actually allowed most other places in the United States, but not here.
Airport
New York City is served by as many as three major airports. The largest is John F. Kennedy International Airport, usually abbreviated JFK. The airport is located in the borough of Queens and mostly handles the international flights. Here, among other things, most major airlines based in European cities land. Newark Liberty International Airport is almost as large as JFK measured in number of passengers. This airport is located in Newark in neighboring New Jersey, but it also serves New York City. The smallest of the three airports you can arrive at is LaGuardia Airport. Like JFK, this one is also located in the Queens borough.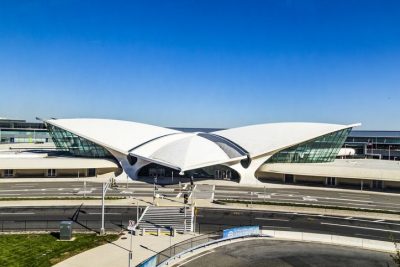 Car Hire at John F. Kennedy International Airport
There are a total of 8 terminals at JFK, and all have their own center for the car hire companies. Most of the major international companies are located in all terminal buildings. However, check in advance which terminals you will find the company from which you will have a rental car. Getting between the terminals is not difficult anyway, and there is a shuttle bus all the time. The cars are all parked at Federal Circle Station, and you can get there with the sportaxi (AirTrain) that departs from all terminals.
From JFK to Central Park in Manhattan, it's about 17 miles, with a driving time of about 35 minutes.
Car Hire at Newark Liberty International Airport
In Newark, it's easy to find the center where car hire companies have their desks. You take the AirTrain (sportaxi) to Station P3,where the cars are also parked.
From Newark to Central Park in Manhattan, it's about 20 miles, with a driving time of about 30 minutes.
Car Hire at LaGuardia Airport
At LaGuardia, all car hire companies are located at the same center. To get to the center, take your own shuttle buses operated by each car rental company. These both pick up and set off passengers outside Terminal A (Marine Air Terminal). Therefore, if the plane arrives at another terminal, you must take your own shuttle bus that runs between the terminals (red or blue line).
From LaGuardia to Central Park in Manhattan, it's about 11 miles, with a driving time of about 25 minutes.