Car rental Rzeszów
Find the best price for car hire in Rzeszów. Goautos.com compares prices from well-known car rental companies in Rzeszów. Search now to see the best deals!
Rzeszów guide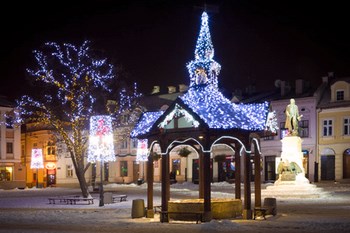 Rzeszów is a city in southeastern Poland with a population of 179,455 (2010) inhabitants.It is located on both sides of Wisłok River, in the central part of the Sandomierska valley not so far from the border Ukraine and Slovakia.
There is a famous university town, and it's the Rzeszów University. Altogether it around 50 000 students who put their mark on the city's cultural life. The city is a transportation hub with a river port and a diverse industry, particularly software and computer important in the city. In 1991 visited Pope John Paul II   Rzeszów.During the celebration, nearly a million people.
As most Polish cities suffered both city and especially its Jewish population a tragic fate after the occupation by the German army. During the war, about 20,000 Jews were murdered in the ghetto in Rzeszów. In a city museum learn about the history of the city that was founded in 1354.
Of the city's main attractions is the crumbling palace of the mighty Lubomirski family and town hall from 1591. Rzeszów has a cosy old town which is concentrated around the market place. 20 km outside the city, in the little place Lancut, lies the beautiful Lancut Castle which was built in the 1600s and now converted into a museum.
Rzeszów-Jasionka Airport (Port Lotniczy Rzeszów-Jasionka) is located in the village Jasionka 7.8 Km north of the city.