Car rental Białystok
Find the best price for car hire in Białystok. Goautos.com compares prices from well-known car rental companies in Białystok. Search now to see the best deals!
Białystok guide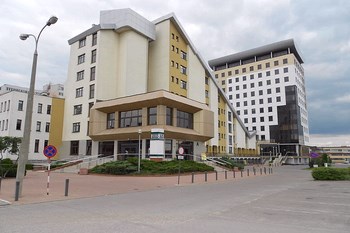 Białystok is the largest city in northeastern Poland and the capital of the region of Podlasie Voivodeship near the border with Belarus.It is located on the banks of the Biala River population is 294,399 (2009) inhabitants.
The city is known to be a meeting place for different religions, ethnic groups and nationalists. The ethnic and linguistic diversity was why Ludwik Zamenhof who was born in Bialystok began working to develop the universal language Esperanto.
Before 2 World War II, about 40 percent of the population Jews. 27. June 1941 was conquered by the Białystok Germany when they invaded the Soviet Union. 56,000 Jews were confined in a ghetto that was destroyed during the August 1943
In the area there are many great parks, only a few kilometers away is Knyszyńska which is a protected forest with whirlpool Suprasl. Another one of those, Białowieski National Park, bison are the home and is a UNESCO World Heritage Site. In narwianski National Park can experience many rare bird species.
The city has many streets with historic buildings and small shops and cosy cafes. The most important historical buildings are Branickis palace, the town hall and a large number of churches, one of them is the Virgin Mary Church. The largest museum is the Podlaskie Museum in addition to the paintings and art archaeological, sculpture and history department.
Białystok-Krywlany Airport is the nearest airport and no regular service. The nearest international airport is Warsaw Chopin Airport is 174 km from Bialystock.