Car rental Elche
Find the best price for car hire in Elche. Goautos.com compares prices from well-known car rental companies in Elche. Search now to see the best deals!
Elche guide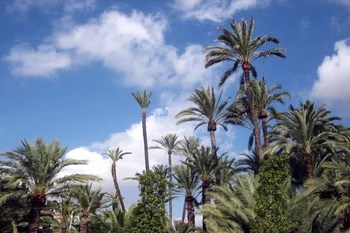 Elche is located in southeast Spain on the river Vinalopó, and belongs to the Valencia region.Elche is the second largest city in the province Alicante and is located approximately 18 km west of the Mediterranean coast – and 26 km southwest of the city of Alicante.
Elche has 230,000 inhabitants (2010), and is known for its shoe industry. In addition, agriculture, trade and tourism other important industries of the city.
The settlement of Elche has a Moorish feel, with white houses and flat roofs. In the historic center of the city's buildings from different eras – including theater "El Gran Teatro" from 1920 – and this is also a lot of nice shops, restaurants and pubs. Elche has several shopping centers in other parts of the city.
In 1897, the famous stone sculpture "La Dama de Elche" from the year 400 BC Kr. found in the area (2 km south of Elche). Today, one can visit the place where it was found – where the archaeological museum "Museo de la Alcudia" lies.
Other tourist attractions in the city include Altamira Palace by the river from the 1400s, the Basilica "Basilica de Santa Maria" from the 1670s, the tower "La Torre del Consell" from 1441 (now the Town Hall), Arab baths from the 1150's, a botanic garden and museum for contemporary art.
The coast's beautiful beaches and crystal clear water – and here it is also great scuba diving opportunities.
The nearest airport is Alicante Airport – El Altet, located 19 km east of Elche.