Car rental Kalmar
Find the best price for car hire in Kalmar. Goautos.com compares prices from well-known car rental companies in Kalmar. Search now to see the best deals!
Kalmar guide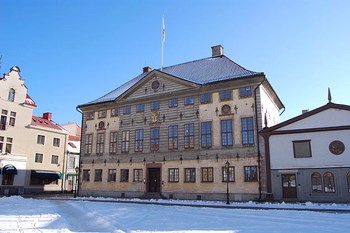 Kalmar is a city in Småland in the south-east Sweden. It is located on the Baltic Sea near the island of Åland and has 36 392 (2010) inhabitants.
Kalmar is one of Sweden's oldest cities and has hosted a number of historical events. It was an important trade center during the Hanseatic League in the 1200s.
Kalmar Castle to stem from the 1100s is one of Kalmar's great prides, located on a promontory in the Palace area. Kalmar Union was founded in a meeting at Kalmar Castle in 1397. Union was a personal union between the kingdoms Denmark, Norway and Sweden that was formed in 1397 and disbanded in 1523.The well-preserved castle is a popular tourist attraction.
The city center is on Kvarnholmen with such Cathedral (1660-1702) is a fine example of Baroque architecture and town hall (1684-1690). Nowhere in Sweden there are so many monuments house the Kvarnholmen.
Kalmar is the main route to the island of Öland thanks to the Öland Bridge.
Kalmar Municipality is a green city that has started a comprehensive program to reduce the use of fossil fuels and energy. An example is the 20   000 of the housing is heated at a large pulp plant that uses steam and hot water for heating.Kalmar is also a bicycle friendly city.
Kalmar Airport is located 6 km west of the city of Kalmar.