Car rental Olsztyn
Find the best price for car hire in Olsztyn. Goautos.com compares prices from well-known car rental companies in Olsztyn. Search now to see the best deals!
Olsztyn guide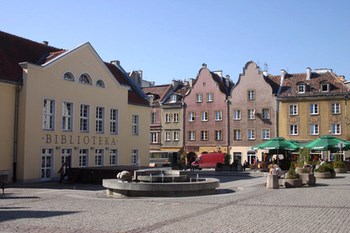 Olsztyn is a city on the Lyna River northeastern Poland located about 170 miles north of Warsaw.The population is 175,420 (2011) inhabitants.
The town grew up around a German knight's castle, Ordensburg from 1347 that is now a museum and one of the main tourist attractions and famous brands. Olsztyn is a charming Gammelby with romantic streets with restaurants and cafes and small peat. Among the historic buildings are the town hall is from the 1500s, Jerusalem chapel from 1565, and St. James Cathedral.
The largest museum is the Museum of Wami and Mazury, which among other things is known for its Christmas card collections. Other museums, nature and sports museum. The city has an important volleyball team, which has produced several master AZS UWM Olsztyn
The city is located in an area with many lakes, forests and plains, there are 15 lakes within the administrative boundaries of the city. This means that there are great walks around the city and major recreation areas with more parks, sculptures and protected forests of beech, oak, maple and lime-alleys.
Michelin tire factory is the largest employer in the region. Other important industries are food processing and furniture production.
The nearest major airport is Khrabrovo airport, about 150 km from the city center. Other major airports located a few hours' drive away is Gdańsk Lech Wałęsa Airport and Warsaw Chopin Airport.