Car rental San Diego
Compare prices and find cheap car hire in San Diego from well-known and local car hire companies. Insurances and unlimited mileage are included. Save up to 70% on car rentals in San Diego through us.
San Diego guide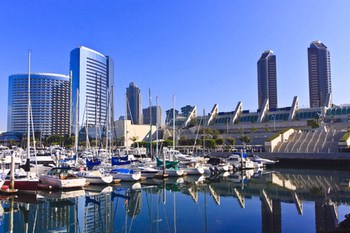 San Diego is located in the US state of California, not far from the border with Mexico, and is a city of about 1.3 million inhabitants (2010). Approximately 100,000 people live in the entire metropolis area. 3 million.
The city's port is considered one of the best and most important in California, and here is also one of the U.S. Navy's largest naval bases. San Diego also has some industries, including the 2015-16 season. in aerospace and rocket production as well as electronics.
The city's history began one day in 1602, when a Spanish explorer ashore and christened the place San Diego after the saint Didakus. However, the official founding did not happen until 1769 – even then under the auspices of Spaniards. San Diego, however, lost its city status in 1852, after years of Mexican domination – but the city was then rebuilt by the Americans 3 miles further south – and entered a strong period of growth.
Attractions
San Diego boasts a number of great tourist attractions – including two of the world's most famous zoos,the San Diego Zoo and the San Diego Wild Animal Park. Also, there is a department of the theme park chain "Sea World" in the city.
In addition, San Diego is known for its countless beach beaches, including Coronado Beach, Ocean Beach, Mission Beach, Pacific Beach, La Jolla and Del Mar Beach.
Balboa Park is also a popular lawsuit. It is the largest public green space in San Diego and covers an area of 4.9 km². Included in the park are also a number of cultural institutions and museums. Established in 1868, Balboa Park is close to the San Diego Zoo. What's more, Mission Bay Park must be mentioned – the largest man-made water park in the United States. It offers a wide range of activities associated with water, as well as great hiking trails and play areas for children. About 15 million visitors visit Mission Park annually.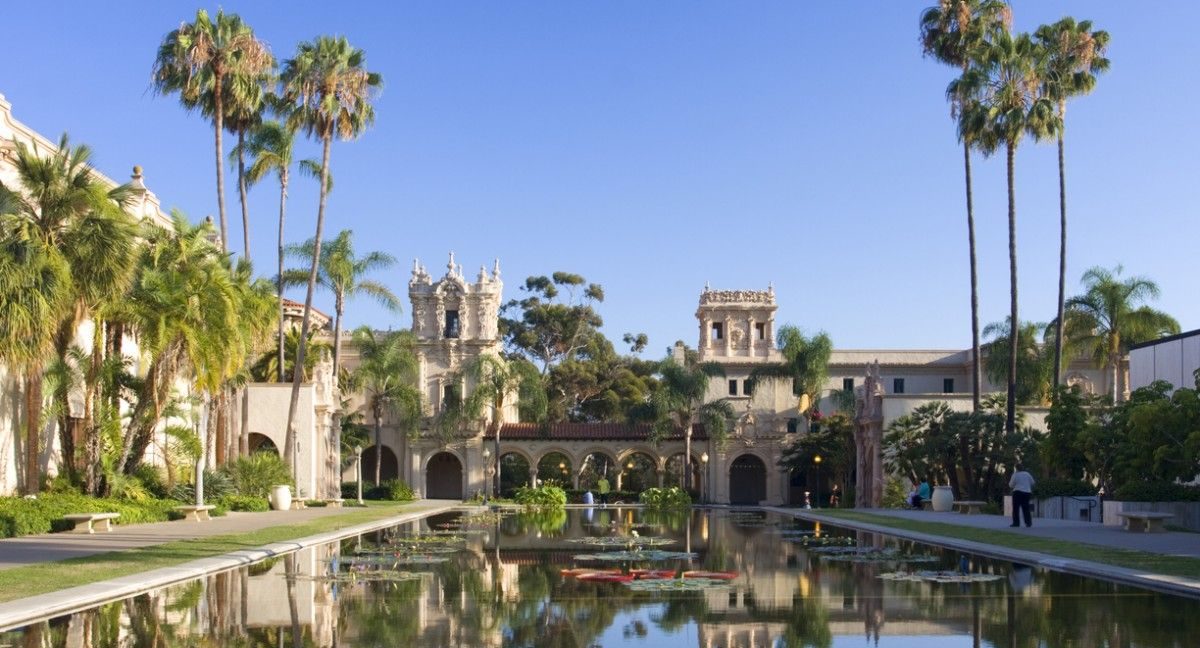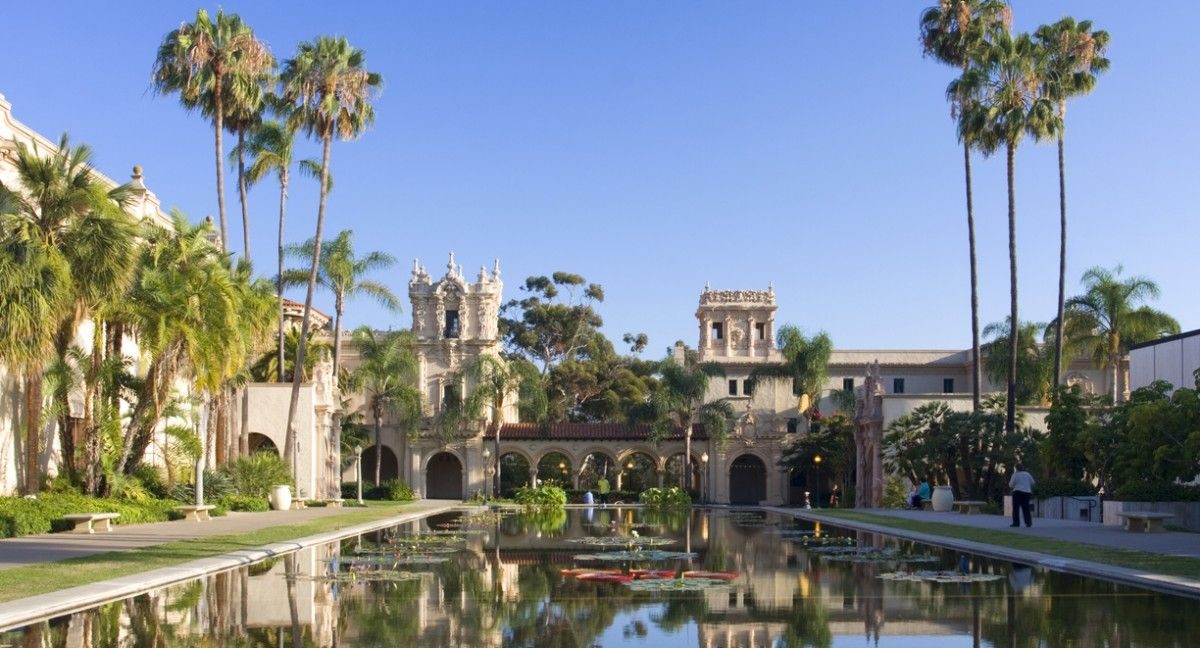 Explore San Diego with car hire
San Diego is located south of Los Angeles,and just off the border with Mexico. The city is not bad to go on holiday to, and contains a rich selection of good eateries, activities, sights, as well as great beaches and bathing life. However, most people who come here spend a lot of time exploring the area around the city. In southern California, there are endless opportunities for rides to adventurous places.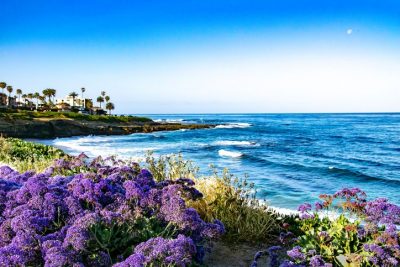 La Jolla – One of California's best seaside resorts
La Jolla is a residential and beach area located just north of downtown San Diego. It is known for, among other things, having several educational institutions, such as the University of California San Diego, several research institutions, and a base for a number of well-known companies. Most famously, La Jolla is still for its fine sandy beaches, some of which are several kilometres long. It is popular to travel here on weekends, both for swimming, and to enjoy the pleasant life of the area. You will find several excellent restaurants here, the shopping opportunities are very good, and in La Jolla there is a lot to do for people of all ages. One of America's best golf courses is close to the beach, there is a legoland here, you will find an aquarium and water park with seals and sea lions in La Jolla, and the San Diego Zoo is a short drive away.
La Jolla is located just 20 kilometres north of Down Town in San Diego. The driving time will be about 20 to 25 minutes if you do not make the trip in the middle of rush hour.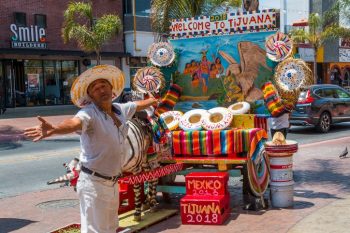 Tijuana – Take a trip to Mexico
If you want to experience a great contrast to the United States and California, just take a short drive to Mexico. Just across the border is the metropolis of Tijuana, which welcomes over 10 million visitors a year from San Diego. Many of these head across the border to experience Tijuana's vibrant nightlife. However, the city has more than enough to offer also for families, or those who like to sleep at night. Here you get excellent Mexican cuisine prepared in the traditional way, you will find many museums and cultural centers, parades and festivals are held all year round, and the city has an endless beach with a bustling bathing life.
It is no more than 30 kilometers from downtown San Diego to the center of Tijuana in Mexico. Unless you have to spend a long time on the border crossing, it will take you about 25 to 30 minutes to drive there by car rental.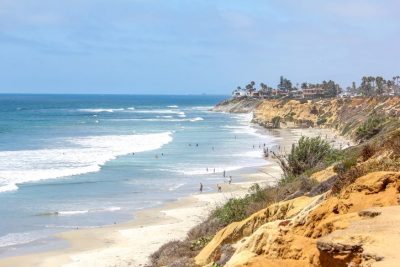 Carlsbad – Golf and seaside resort between LA and San Diego
This small coastal town is a short drive from San Diego, towards Los Angeles. The German name is due to the fact that here you will find spring water that has some of the same characteristics as the water of the original Carlsbad in today's Czech Republic (Karlovy Vary in Czech). The city is today more known as a sovereign resort, not to mention its connection to the sport of golf. Several of the world's largest producers of golf equipment originate in Carlsbad. Naturally, there are also many golf courses in and around the city. Here the bathing life is also very good. The city's long beach is clean and neat, with eateries, bars and cafes everywhere. Carlsbad is very family friendlyand has many activities that cater to children, such as aquarium and legoland.
From San Diego to Carlsbad, it's about 35 miles if you stick to the I-5 N motorway.
Palm Springs – Holiday paradise and desert oasis
The palm springs resort is just a short drive from both San Diego and Los Angeles, heading inland toward Joshua Tree National Park. The city is not that big, with only 44,000 inhabitants, but it welcomes around 1.8 million visitors each year. Almost all of Palm Springs is focused on tourism. There are over 200 hotels and other properties in the city, over 100 eateries, and the city center is a mecca for those who like to shop. Palm Springs also attracts many culturally interested people of all ages. Here there are all kinds of festivals, where the most famous is the music festival Coachella. It is also popular to take active vacations in Palm Springs. In the city you will find all kinds of sports arenas, and the area has the largest density of golf courses throughout California.
The fastest of several driving routes between San Diego and Palm Springs runs on the I-15 N highway, via Temecula and Moreno Valley. The distance is then 225 kilometers, and the driving time without stopping will be about 2 hours and 10 minutes.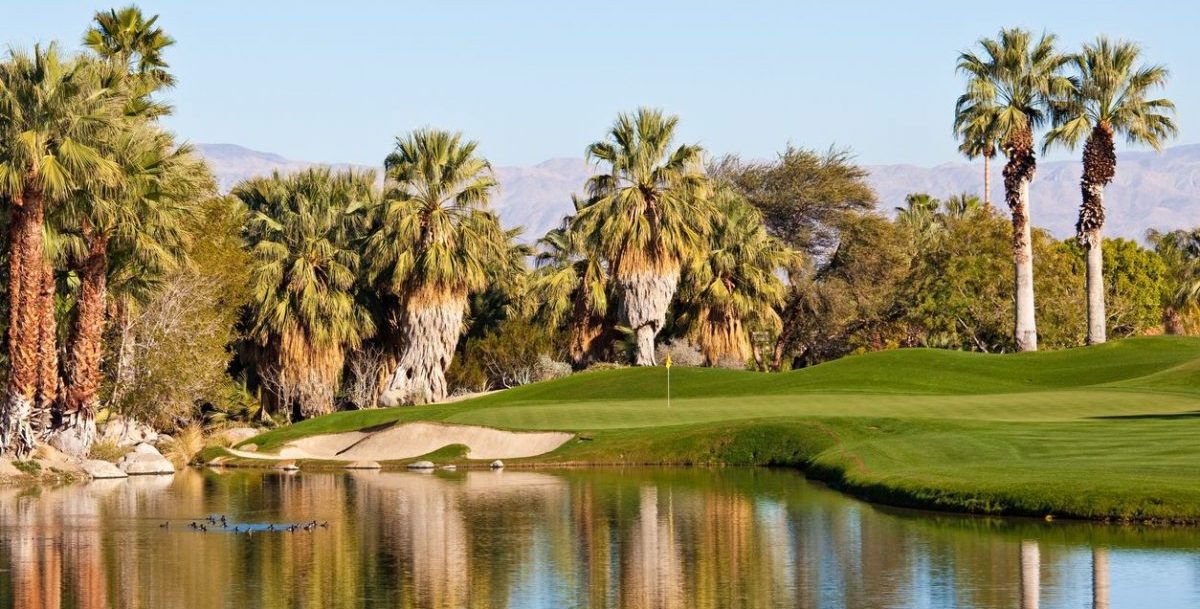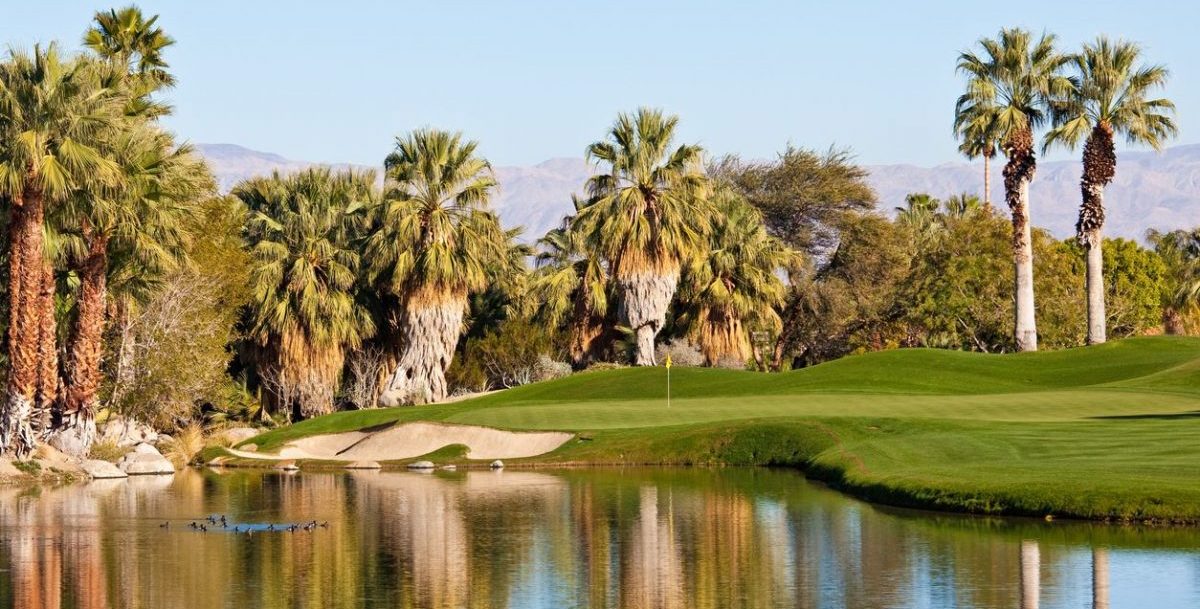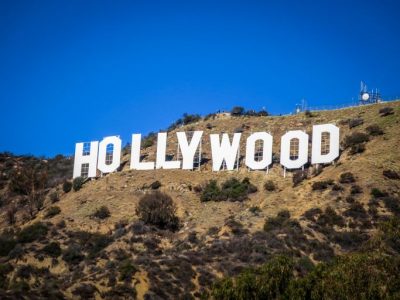 Los Angeles – The glamour capital of the world
Los Angeles is by far the largest city in California, with approximately 13 million inhabitants. Here you will find iconic districts such as Hollywood,Santa Monica, Beverly Hills and Venice Beach. If you're in California and have a rental car, treat yourself to a trip to the glamour capital. While you could easily spend several weeks exploring LA, you'll also have a lot of time in a few days. For example, stay in a hotel on one of the famous beaches, take a sightseeing tour of Beverly Hills,visit Paramount Pictures Studios and Disneyland,and go shopping in Rodeo Drive. The Hollywood sign, Sunset Boulevard and the Hollywood Walk of Fame are also among the most popular sights. If you're interested in art and culture, LA is a mecca. Here you will find some of the most famous museums in the world, great artists have regular concerts, and you can experience all sorts of fine exhibitions, theatre productions and shows.
From San Diego to Los Angeles, it's about 125 miles. The fastest route runs along the coast, and you get a driving time of about 1 hour and 45 minutes.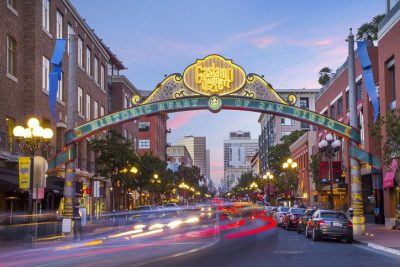 Parking and traffic with car hire
In San Diego, it's quite easy to find parking in marked spaces in the streets. The spaces are subject to a surcharge from Monday to Saturday between 08:00 and 18:00, while on Sundays and national holidays there is free to park. You pay on parkometers with either coins, or your mobile phone if you download the ParkMobile app. Prices depend on which of the city's 3 zones to park in (red, white and blue), and of course it is most expensive in the city centre. There are also more than enough parking facilities in the city. Most hotels in the city of a certain size have good parking spaces, and these are usually also open to people who are not guests of the hotel.
Traffic in San Diego is less dense than in cities like Los Angeles and San Francisco, but queues can still be quite long during rush hour. This is especially true of Freeways that go in and out of the city centre. Traffic can also be perceived as quite hectic if you are not known in the city. Visitors who have plenty of time are advised to use the right lane as much as possible if the road has two lanes. If the road has four lanes, which is common at Freeways in and out of the city centre, you should be in the second lane from the left. The innermost lane is preferably used by trucks and the like, while the field on the far left is used by those with little time.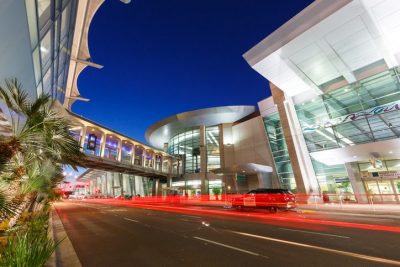 Airport
San Diego International Airport was formerly called Lindbergh Field: It is among the most trafficked in the United States, serving over 25 million passengers a year. The vast majority of this is from domestic traffic. In excess of 1 million of the passengers come from international flights. The main emphasis here is direct flights that run from Germany, Switzerland, England, Japan and Mexico, among others.
Since 2015, all car hire companies have been gathered at a new center at the airport. Previously, one had to find each company's office, with different shuttle buses. Today you use the same shuttle bus, no matter which terminal you arrive or leave from.
As of today there are 14 different companies offering car hire here. These include international companies such as Hertz, Avis, Budget and Enterprise, as well as several well-known US players. It is also relatively short distance to four other smaller U.S. car hire companies that have offices near the airport.
San Diego Airport is right next to the bay of North San Diego Bay, and virtually in the middle of the city. The distance to Down Town is only 3.5 kilometers, and the drive takes no more than 5 to 10 minutes.