Car rental Bologna
Compare prices and find cheap car hire in Bologna from well-known and local car hire companies. Insurances and unlimited mileage are included. Save up to 70% on car rental in Bologna through us.
Bologna guide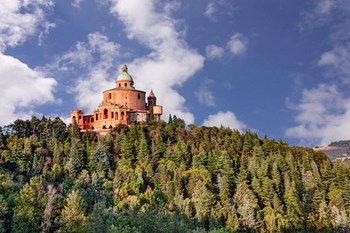 Bologna is the capital of the Italian region of Emilia-Romagna,north of the Apennines mountain range. Around the city – which has around 375,000 inhabitants (2010) – there is a fertile plains landscape. Bologna is often referred to by the pet name "La dotta" (the scholar), since the city's university is one of Europe's oldest (founded in 1119). Others call the city "La grassa" (the fat) because of Bologna's famous cuisine.
The original name was Felsina, and the city is mentioned as Roman colony as early as 189 BC. Kr.
Attractions
The well-preserved historic city environment is Bologna's foremost attraction. It is dominated by two large open spaces (Piazza Maggiore and Piazza del Nettuno), as well as several churches and palaces. In Piazza del Nettuno stands the famous Neptune Fountain from the mid-16th century. At another of Bologna's squares, Piazza di Porta Ravenna, there are two leaning 12th-century towers (Garisenda and Asinelli), which attract the attention of tourists.
Buildings worth visiting are Palazzo Comunale (Town Hall) and Palazzo del Podestà – both medieval – as well as some of the many magnificent churches. Among these, two must be mentioned specifically: the Cathedral of San Pietro and the Gothic San Petronio. The latter has a wonderful entrance portal made by the sculptor Jacopo della Quercia. This church is also known for the pope crowning Emperor Charles 5. there in the year 1530.


Explore Bologna with car hire
Although Bologna can be an exciting small town, most people travel here because the city is a good starting point for travelling around the region. Bologna is centrally located, within easy reach of cities such as Milan, Venice, Florence and Rimini,and also places like Lago di Garda. With car rental from Bologna airport, you reach many of Italy's most popular cities in just an hour or two.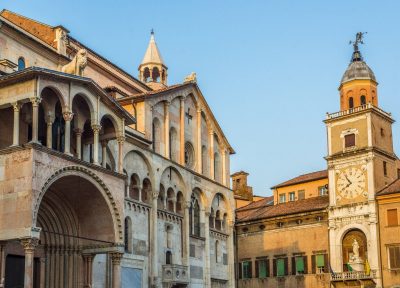 Modena – Cozy town for food monuments
Modena is an ancient city, and the area was inhabited already in the Iron Age. A drive by here is certainly to recommend, especially if you are interested in history, culture, beautiful buildings, and good food. The city is known, among other things, for its food traditions and pleasant restaurants, products such as aceto balsamico tradizionale, festivals in the piazzas, good shopping opportunities (especially fashion), and the fact that both Luciano Pavarotti and Enzo Ferrari were born and grew up here.
It is no more than 44 kilometers from Bologna to Modena. If you drive the motorway most of the stretch, you will take about 50 minutes.
Florence – Cultural Center of Italy
Florence is usually on the plan of most people visiting the region of Bologna. This is one of the world's most beautiful medieval cities, and the historic centre is a UNESCO World Heritage Site. Florence has been the capital of Italy, from here come many of the country's most famous artists, and millions of tourists travel every year to experience the pearl of Tuscany. You should set aside more than one day to catch up with everything Florence has to offer.
It is about 105 kilometers from Bologna to Florence, and most of the drive goes on the motorway. With regular traffic, the trip takes about 1 hour and 20 minutes. In the area around Florence, and along the route from Bologna, there are many cozy villages and vineyards that may be worth a stop.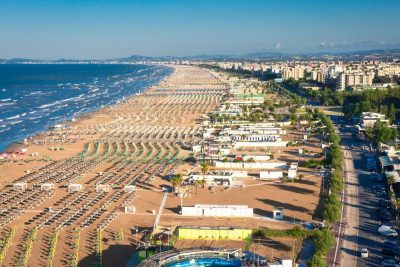 Rimini – One of Europe's largest seaside resorts
Rimini's beach is 15 kilometres long, with golden sand as far as the eye can reach. The city is also very old, founded by the Romans already in the year 268 before our era. Here you will find a perfect combination of exciting city life and comfortable beaches. The old city centre offers architecture from many different eras,sights everywhere, good restaurants, good shopping, and much more. If you are on a car rental trip in Italy in summer, the trip should stop by Rimini.
It is about 120 kilometers between Bologna and Rimini, and virtually the entire trip will go on the motorway. Without stopping, the drive will take about 1 hour and 20 minutes.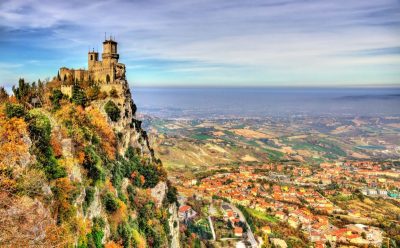 San Marino – The mini-putt state you experience in a day
The small republic of San Marino is one of the world's smallest states, with a population of only 33 thousand inhabitants. In Europe, only the Vatican and Monaco are smaller. This is also the world's oldest republic. It is located south of Bologna, up in the mountains, and right into the country from the seaside resort of Rimini. The city of San Marino is concentrated around an ancient fortress. Here there are narrow and cozy pedestrian streets, great views, nice and small restaurants, and more than enough museums and sights to address. The mini-putt state can be experienced in one day, but it's not wrong to address some of the villages in the area while you're there. Remember to bring your passportand ask to have it stamped at the border crossing.
From Bologna you drive on the motorway all the way to Rimini, and then there is a country road up to San Marino. The route is a total of about 140 kilometres and you spend about 1 hour and 45 minutes if you have no stops on the road.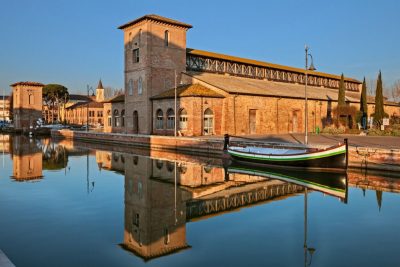 Ravenna – Here you will find the good life
Ravenna is slightly secluded from the beautiful beaches along the coast, but is still a popular destination for those who travel on beach holidays. What is the city's biggest drawcard, however, is the culture. This was the capital of the Western Roman Empire about 1,600 years ago. The city has a very beautiful city centre, several architectural gems (8 buildings are a UNESCO World Heritage Site), and is famous for its many music and cultural festivals. As elsewhere in Italy, there is also no good food experience in this region, and especially when it comes to seafood.
It is 81 kilometers between Bologna and Ravenna, and most of the trip go on the same motorway as the one that takes you to Rimini. The drive takes about 1 hour.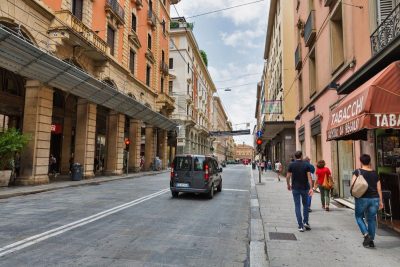 Parking and traffic with car hire
It is not particularly accessible by car in Bologna's historic center. The streets are narrow, and there is a fast cork and queue here. If you are exploring the sights, you should therefore park on the outside. Parking along the streets is marked with either white or blue. White marking means residents can park there, while blue means everyone can park.
Please also note that most Italian cities have so-called ZTL zones. Some areas may be closed to all traffic, either permanently, or at certain times. If the hotel you are staying at is within such a zone, you should provide the hotel with the registration number of the rental car. Then they make sure you have an exemption to drive to and from the hotel.
Traffic is more aggressive in Italy than many other countries in Europe. On the highways, this is usually not a factor, but in the cities and on the country roads you should pay extra attention. Drive defensively, but determinedly.
Airport
The airport in Bologna is called Bologna Guglielmo Marconi Airport. Although Bologna is not among Italy's most popular destinations, many people use the city as a starting point. Especially those who explore on their own with car hire. Therefore, there are over 8 million passengers a year traveling via Guglielmo Marconi Airport.
There are currently 20 car rental companies represented at the airport in Bologna. The well-known international landlords Avis, Budget, Hertz, Sixt, National, Europcar, Thrifty and Alamo are among these. In addition, you will find a number of Italian and lesser known companies, such as Sicily by Car, Maggiore and Autovia. All counters and rental offices are located in the arrivals hall of the airport, and rental cars are parked in the immediate vicinity.
The airport is located only 6 kilometers northwest of the city center, with a driving time of less than 10 minutes.