Car rental Bergen
Compare prices and find cheap car hire in Bergen from well-known and local car hire companies. Insurances and unlimited mileage are included. Save up to 70% on car rental in Bergen through us.
Bergen guide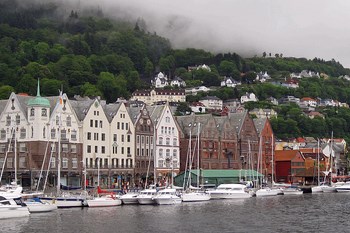 Bergen is located on the west coast of Norway,and is the adminstrativt center in Vestland county. Bergen is Norway's second largest city after Oslo. The city itself has about 261,000 inhabitants (2011), while the metropolitan region has a population of 375,000 people.
It was founded by King Olav Kyrre in 1070 as Bjørgvin – which means "meadow between the fjords". It is considered to be one of Norway's oldest cities,and was also the Norwegian capital until 1314. It had then, at its founding, replaced Nidaros (Trondheim) as the capital.
Bergen was one of the German Hanseatic League's most important port cities for over four hundred years, which is still seen at Bryggen ("German Pier"), which is a UNESCO World Heritage Site. During the union with Denmark, Bergen was the third largest city in the twin kingdom. Only Copenhagen and Altona (at Hamburg) were bigger. Until the 1830s, it was Norway's largest city.
Bergen is otherwise known for its rainy climate, but is nevertheless a popular destination for both Norwegian and foreign tourists. The city is by tradition surrounded by seven mountains (but the number is a question of defination).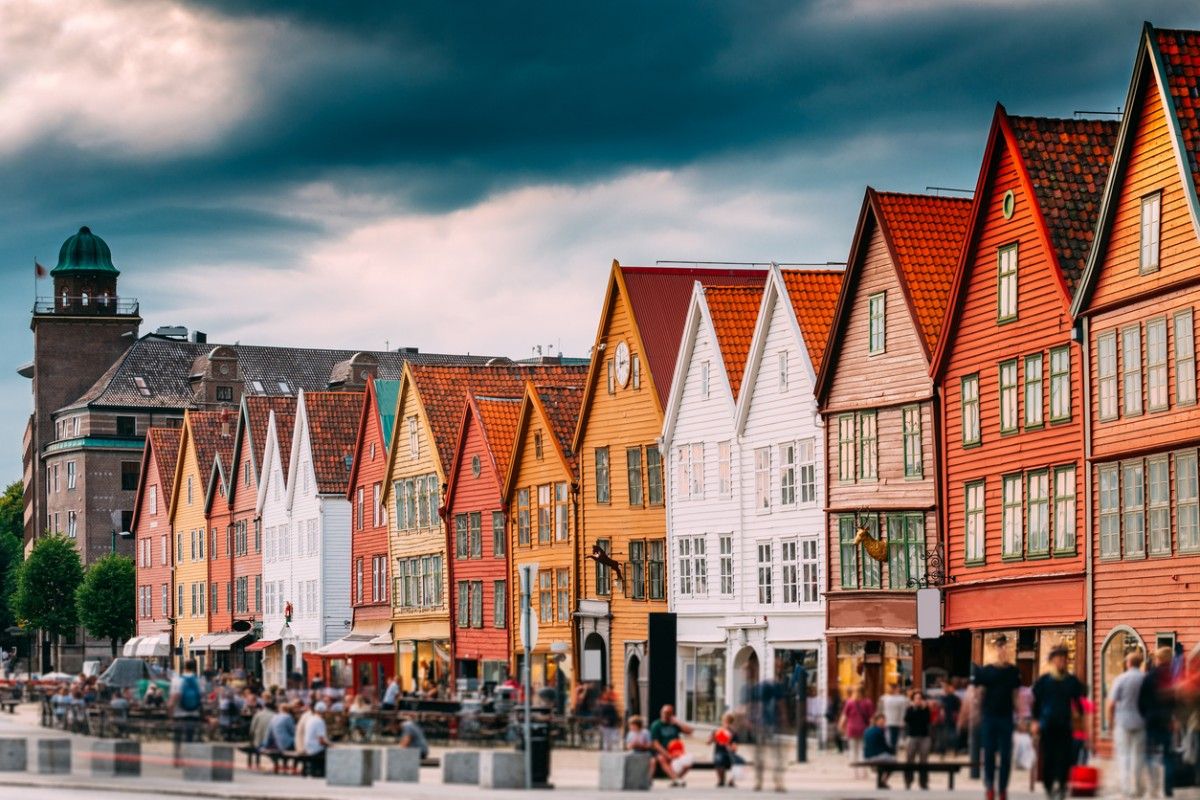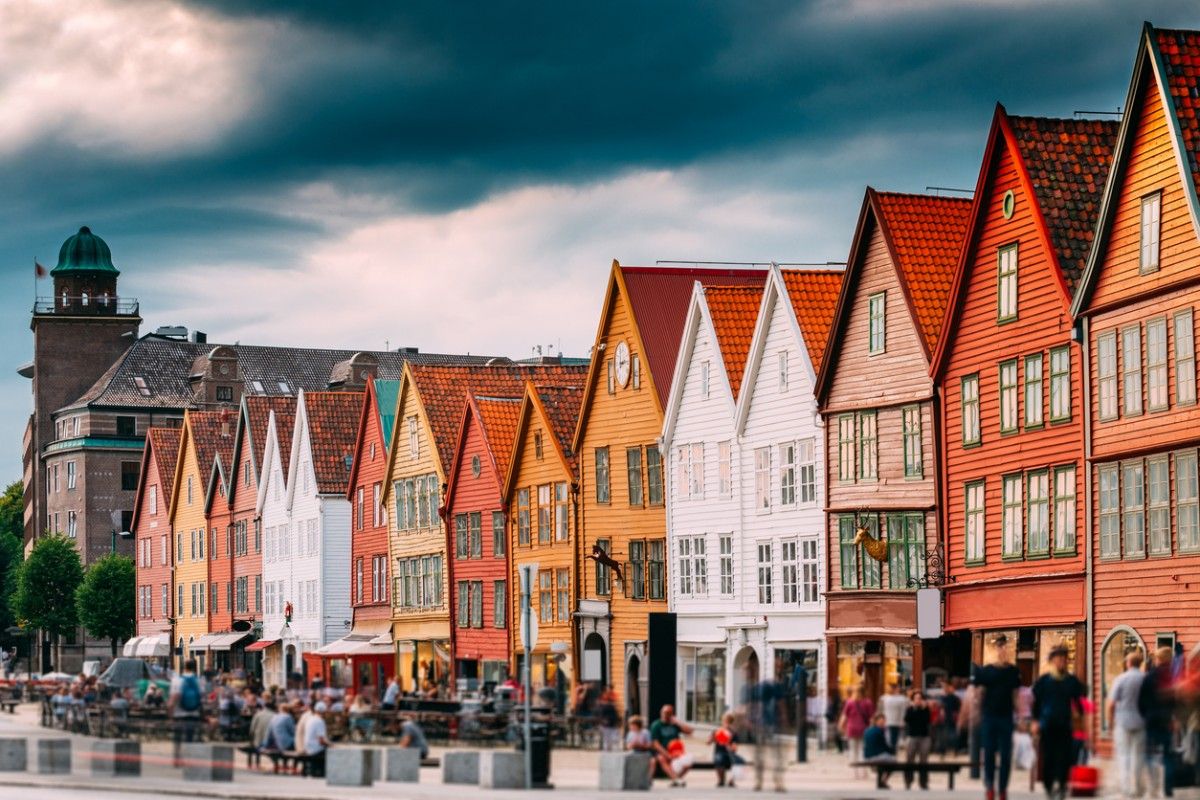 Attractions
Among the sights of the city – in addition to Bryggen – there are several historic buildings. Among these, the complex Bergenhus fortress is most famous, as among other things. includes håkonshallen from the 13th century and the 16th-century Rosenkrantz tower. Otherwise, the town has several interesting medieval churches – primarily St. Mary's Church, The Church of the Cross and St. Olav's Church, all from the 12th century. St. Olav's Church is today identical to Bergen Cathedral.
Several major museums are also among the city's most popular lawsuits. Bergen Museum includes several departments, including the Cultural History Collections, the Natural History Collections and the Botanical Garden. The city has fostered several great artists, and in the Fana district lies the composer Edvard Grieg's "Troldhaugen" – while in Bergen's neighboring municipality the composer and violinist Ole Bull's "Lysøen" is located. Both of these artists' homes are part of the Kunstmusee in Bergen, which also includes the Bergen Art Museum and the Vestlandske Kunstindustrimuseum. Otherwise, Bergen Maritime Museum is the largest of its kind in Norway.
In the immediate vicinity of the city there are several interesting 12th-century monastery ruins,including Nonneseter and Lysekloster.
Bergen is otherwise one of norway's most important cultural cities, where the annual Festival enjoys international standing. Most of the concerts take place in the city's "main living room", Grieghallen – a modern concert hall that was opened in 1978.
If you need recreation of a different nature, a spectacular trip up one of Bergen's seven mountains can be recommended. Up to Fløyen you will find "Fløibanen", which is a rail cable car that was opened in 1918 – while the top of Ulriken you can reach by hoverpath (opened in 1961). Otherwise, a visit to the impressive Aquarium at Nordnes is absolutely to recommend.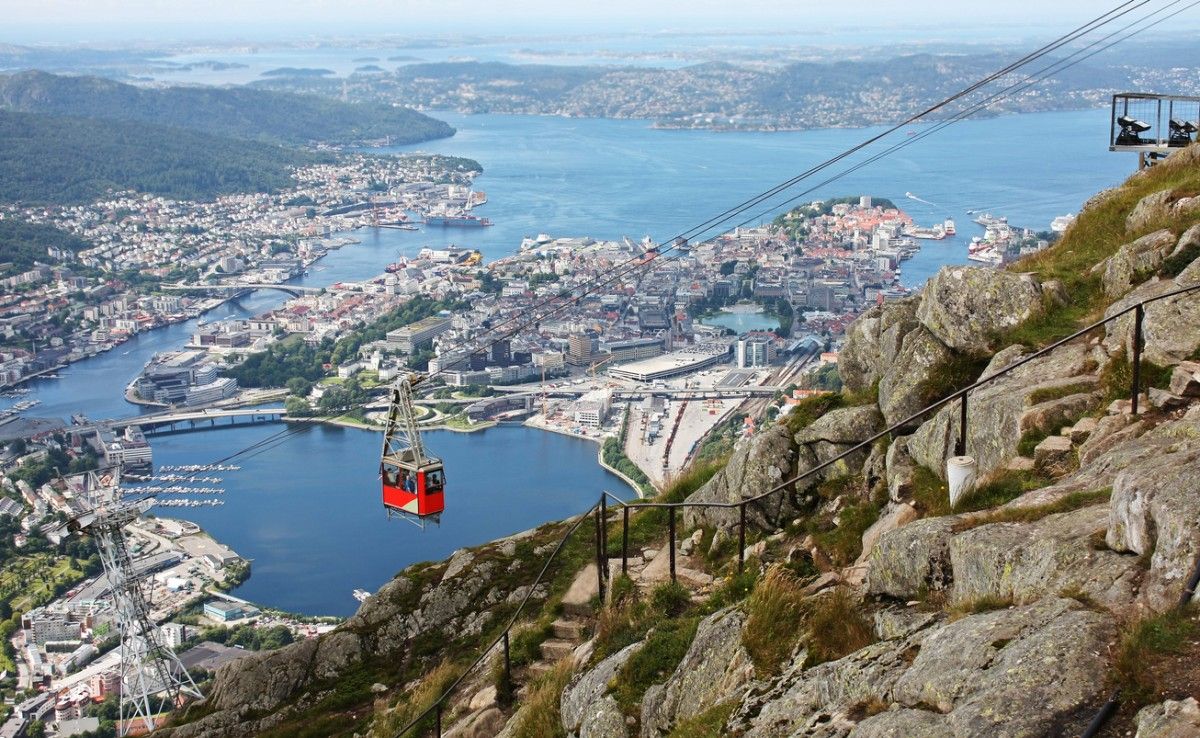 Explore Bergen with car hire
Hordaland is a beautiful part of Norway, with many great places to go on an excursion to. Here there are fjords, mountains and islands wherever you turn, waterfalls, cliffs, beautiful small villages and unique nature experiences. Below you have a few suggestions that are easy to implement by car rental.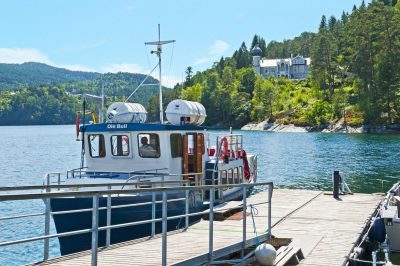 Ole Bull's villa at Lysøen
The composer and violinist Ole Bull was born in Bergen, but spent his last years on the island of Lysøen, south of the city. In the meantime, he stayed in France and Germany,as well as founding a kind of Norwegian colony in what is now the United States. Ole Bull's Villa at Lysøen is from 1872, and has a very distinctive appearance. The main building is a kind of combination of Swiss and Arabic architecture,with abundant carvings and beautiful details. Here you will find a museum dedicated to the musician, a pleasant café, and in summer there are often concerts on the property. You park your car at Lysekloster and take the boat from there (the boat trip takes 6 minutes). The villa is open from May to September, but visits can be booked out of season.
It is about 24 kilometers from Bergen city centre up to Lysekloster, with a driving time of about 35 minutes.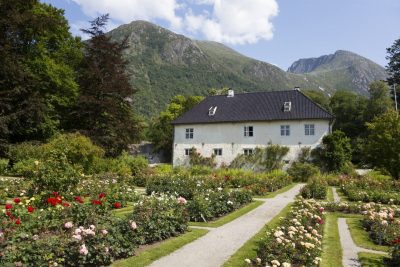 The Barony of Rosendal
Rosendal is a village and administrative centre in Kvinnherad municipality. Here lies what was once Norway's only barony. The Danish nobleman Ludvig Rosenkrantz moved here in connection with the marriage of Karen Mowat, and the farm in Kvinnherad was a wedding gift. He eventually followed the title of baron. The castle in the village was built in 1665,and is probably considered one of the smallest in Europe. Here today there is a museum that tells the history of the barony. On the farm there is also a great Renaissance garden that is considered Norway's oldest of its kind. It is possible to spend the night at the barony, not in the castle itself, but in the associated farm located next to the garden.
It is 118 kilometers if you take the shortest road from Bergen to Rosendal. This route goes via Gjermundshamn, where you have to take the ferry to Årsnes. Unless you have to wait a long time for the ferry, the trip will take about 2 hours and 40 minutes.
Flåm and Flåm Railway
In the small village of Flåm you can take what is considered one of the world's most beautiful train trips. The Flåm Railway runs from Flåm, located at the bottom of the Aurlandsfjord, and up to the mountain station Myrdal. The locomotive has worked up nearly 900 meters in about 50 minutes, giving passengers a train and nature experience that is unique. There are several other good reasons to visit Flåm, including the viewpoint at Stegastein, the farm yard at Otternes, and fantastic nature experiences all year round.
It is 166 kilometers from Bergen city center to the village of Flåm. The drive takes you through a beautiful landscape, and stops by voss, among others. Without stopping, expect to spend approximately 3 hours on the entire stretch.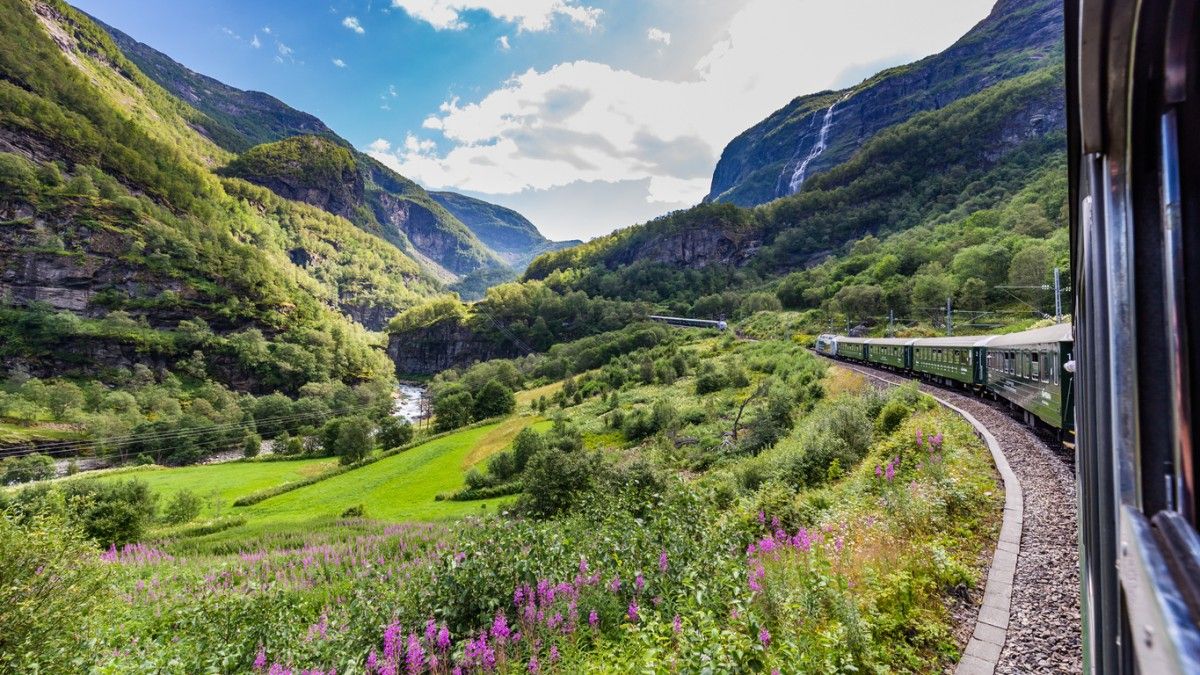 Steinsdalsfossen Waterfall in Norheimsund
Norheimsund is located well inside the Hardangerfjord,Norway's second longest, and the world's fourth longest fjord. The whole area is a natural gem and offers many beautiful sights and experiences. One of the easiest to reach from Bergen is Steinsdalsfossen waterfall in Norheimsund. This one has a fall of 50 meters, and you can walk under it on a nicely constructed hiking trail. Norheimsund is a beautiful little village that is nice to top on anyway, and right by the waterfall you will find a nice shop and café. For example, if you want to see more of the beautiful waterfalls in this region, you can drive on to Vøringsfossen waterfall, which is at the very bottom of the Hardangerfjord, or to Låtefossen just past Odda. Then you are also near the famous Trolltunga.
From Bergen to Norheimsund it is just under 81 kilometers, and the drive by car rental takes about 1 hour and 30 minutes.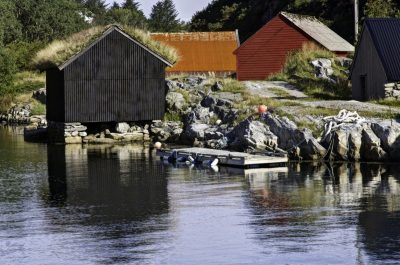 Øygarden and the Coastal Museum
Øygarden municipality consists of about 450 small and large islands, and is located just west of Bergen, right by the sea. In this area there are many who have a cabin, and Øygarden is a popular destination for the Bergens when bathing and fishing. In many places you will find fishermen's cabins or cabins that are for rent,centers for all kinds of boat trips and ocean experiences,and much more. In Rong, a small place on one of the outermost and northernmost islands, is a museum that you should see if you are in the area. The Coastal Museum in Øygarden tells about both the traditional aquaculture industry and about the oil adventure.
It is 41 kilometers from Bergen city center to the small square Rong in Øygarden municipality. The driving time is barely 40 minutes.
Parking and traffic with car hire
It is usually quite easy to find parking space in the center of Bergen. The marked spaces in the streets are rarely full, but here there are often time limits for how long the car can stand. If you need long-term parking, one of the parking garages is a better option. Cost-wise, the parking garages don't have to be more expensive than if you park your car in the streets. If you are on a day trip and just want to stroll a little in the city centre or along the quays in Vågen, klostergarasjen is the best option.
It is generally easy to drive in Norwegian cities, including in Bergen. Nevertheless, please note that the city centre is quite compact, with a good deal of narrow streets, one-way streets, and streets that can only be used by tram and bus.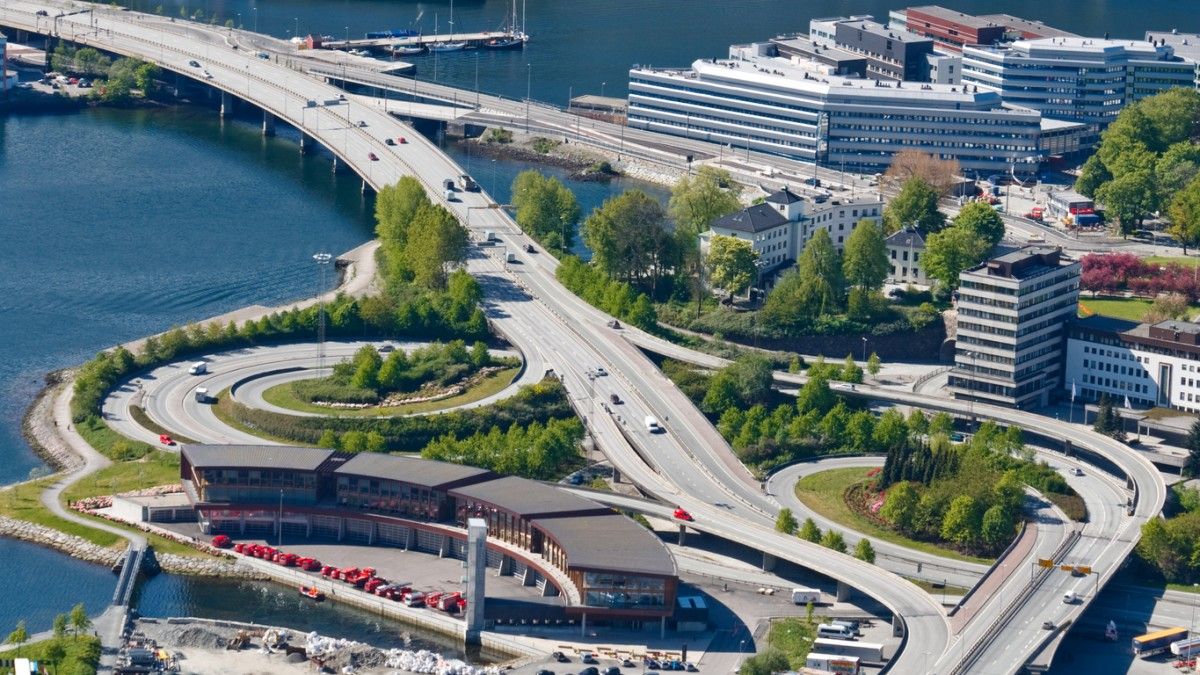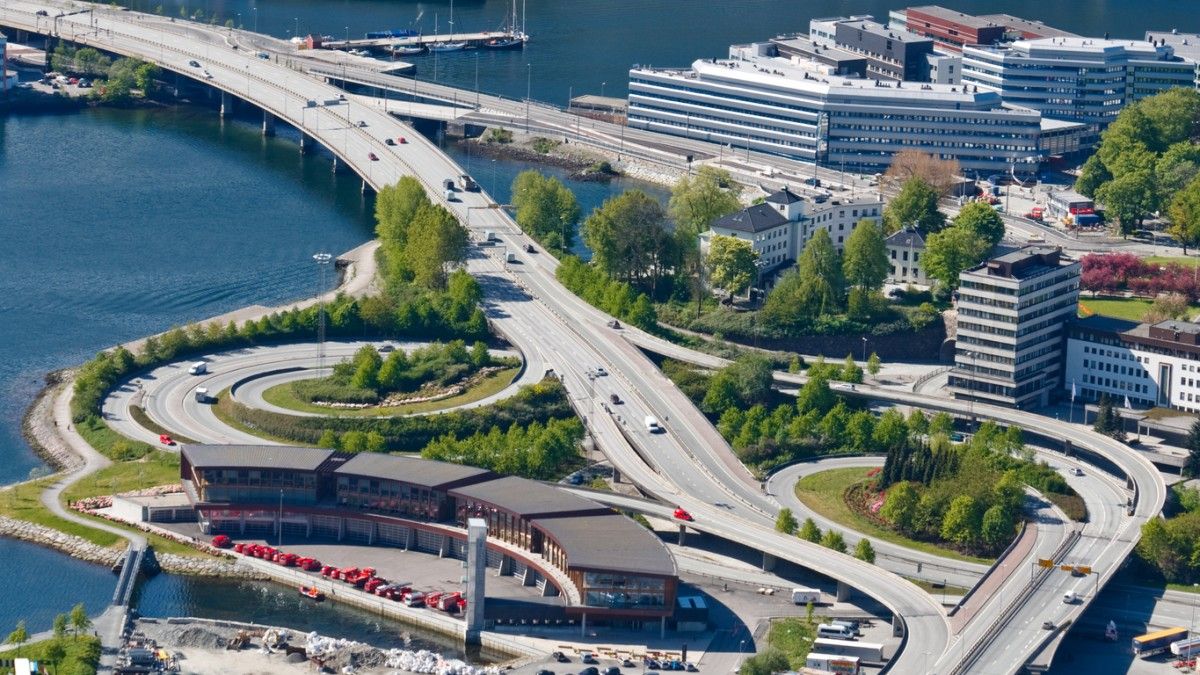 Airport
Bergen Airport is also called Flesland, and is the largest airport in Norway after Oslo Airport Gardermoen. There are currently 15 domestic direct flights to Bergen Airport. In addition, flight routes to over 40 European cities. The airport is therefore well trafficked, with approximately 6.5 million passengers a year.
There are currently 5 car rental companies that have offices and rental cars at the airport. These are Budget, Avis, Europcar, Sixt and Hertz.
The airport is located just under 20 kilometers from Bergen city center. You drive on the four-lane road almost the entire stretch, and usually the drive takes about 25 minutes.