Car rental Marseille
Compare prices and find cheap car hire in Marseille from well-known and local car hire companies. Insurances and unlimited mileage are included. Save up to 70% on car rental in Marseille through us.
Marseille guide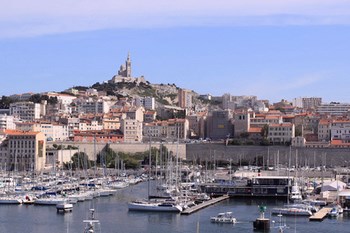 Marseille, france's second largest city, is located on the Mediterranean coast. It has a population of approx. 852.000 (2010). More than 1.5 million people live in the metropolitan area.
Marseille is France's most important port city and capital of the French region of Provence-Alpes-Côte d'Azur and in the French department of Bouches-du-Rhône. Marseille is considered France's oldest city. It was founded by the Greeks around 600 f.Kr., and was then called Massalia.
The city's original center is the old port, vieux port. It is about 500 meters long and 200 meters wide. Here you will find a number of restaurants in all price ranges, and the port area is full of life for much of the year. Marseille's traditional and world-famous fish market is also located in the Vieux Port. Each side of the port is guarded by fortresses, which are among the city's sights: Fort Saint-Jean and Fort Saint-Nicolas.
Attractions
Marseille has many interesting tourist attractions to offer. The city's main landmark is the church "Basilique Notre Dame de la Garde", located at an altitude 154 meters above sea level. From here there is a wonderful view of the city and the Mediterranean Sea. At the top of the church, an 11-meter-high gilded statue of the Virgin Mary and the Baby Jesus kneels. Marseille's oldest 5th-century church – Abbaye Saint-Victor – is just below its height. It is reportedly built for the city's first martyrs.
Another attraction not to be missed in Marseille is the old fortress "Chateau d'If", located on the small island of If outside the port. This is where the author Alexandre Dumas placed the Count of Monte Cristo in the famous 1844 novel. Otherwise, the long Prado Beach (a few km south of the city centre) must be mentioned. There is also a beautiful seafront promenade, where the bars and restaurants are located in a row. And if you need a different and quieter form of recreation, a stroll in the large Borély park a little east of prado beach can be recommended. Here, however, there is also the possibility of various activities and experiences, if one wishes. The park includes both a golf course, a racecourse (Hippodrome) and the Botanical Garden.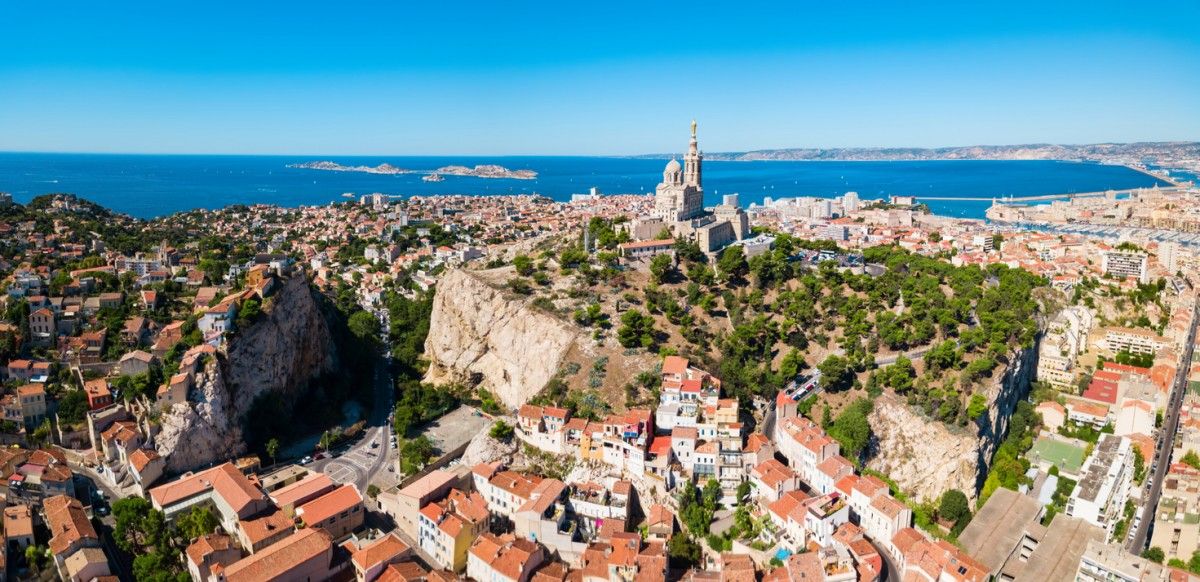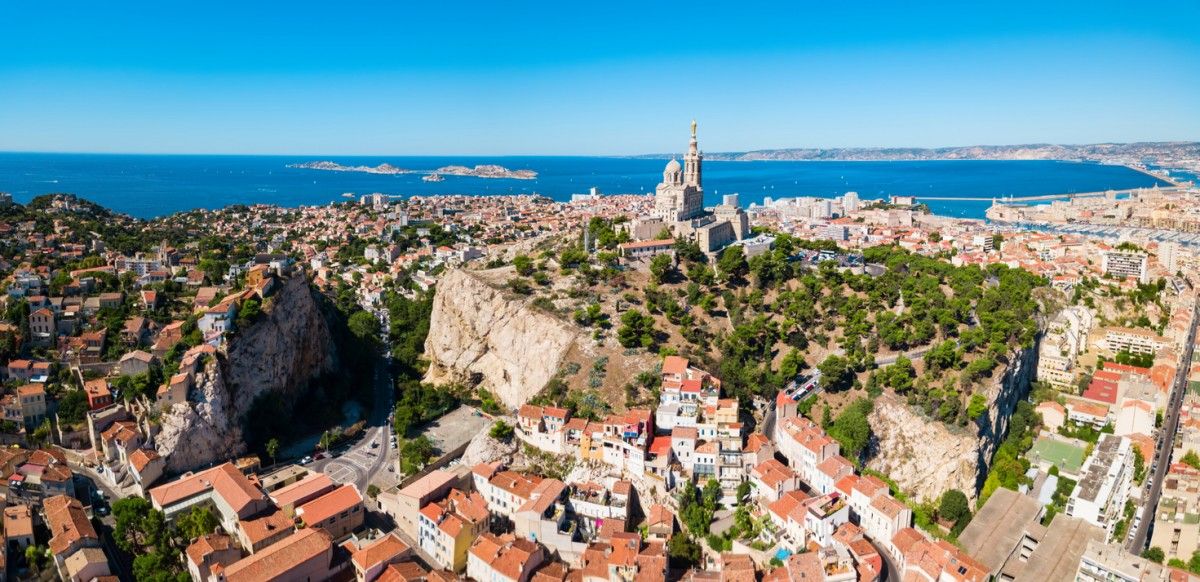 Explore Marseille with car hire
Marseille itself is less exciting than the rest of southern France. Thus, this is the right city to acquire a rental car in. Along the entire coast from Marseilles, and especially in the direction of Italy,you will find famous small and large cities that offer great experiences. Inland you have at least as many opportunities, and especially if you appreciate beautiful landscapes. Here are some suggestions for driving routes that won't disappoint you.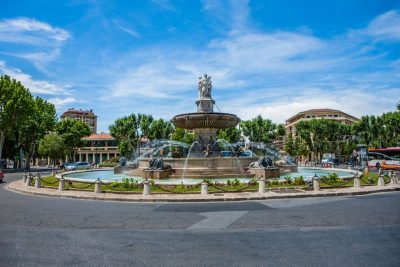 Aix-en-Provence – The elegant artist city of Provence
This city is as provencal as you get it. The atmosphere is relaxing and elegant, and has attracted artists and other celebrities throughout the ages. The center of Aix is consistently beautiful, and is dominated by very many ornate fountains. Some of these have their roots all the way back to Roman times. Many famous painters and writers have stayed for long periods in Aix, including Ernest Hemingway and Paul Cézanne. That's why you'll find a good selection of museums and galleries here, and famous restaurants and cafes that the celebs frequented. The city's shopping and nightlife are also highlighted among those who know Aix.
Aix-en-Provence is located just north of Marseilles, and so close that you will normally use the same airport if you are going to this city. The route is only 33 kilometers, with a driving time of about 30 minutes.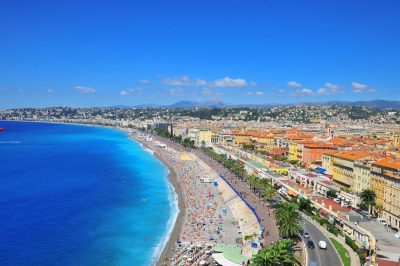 Nice – Capital of the French Riviera
Nice is the second largest city in the Côte d'Azur region, after Marseilles. It is known for many conditions, and especially when it comes to culture and architecture. Many world-famous artists have had Nice as their base, and the centre of the city is dominated by beautiful Belle Epoque-style buildings. The most famous is the Hotel Negresco, which stands on the famous seafront La Promenade des Anglais. Nice must be experienced when you are in Provence, and preferably with an overnight stay or two. Here you will find many exciting museums, galleries and sights, good restaurants, a vibrant nightlife, and everything close to the beautiful beach in the city center. With Nice as a starting point, and with car rental, it's easy to also catch up with other places worth a visit, such as Monaco and Cannes.
From Marseilles to Nice it is about 200 kilometers if you drive the highway that enters the country. The driving time is then about 2 hours and 15 minutes.
Many choose to drive along the coast, both to stop in the pleasant towns, and to enjoy the sea view. The driving time will then be a good deal longer.
Avignon – The Paved Seat of Provence
Avignon was the seat of seven successive Roman Catholic popes in the 14th century. The city's centerpiece is the Palais de Papes, the papal palace that still holds very good condition. This is one of several buildings in the city that are a UNESCO World Heritage Site, where the other two most famous are the Pont d'Avignon Bridge,the city's cathedral, and the Roman aqueduct Pont du Gard. In Avignon you will experience provencal city life at its best. Here there are cultural events all year round, major festivals, fantastic restaurants and a bustling city life. All surrounded by beautiful architecture and exciting sights.
It is about 102 kilometers from Marseilles to Avignon. The driving time is about 1 hour and 10 minutes.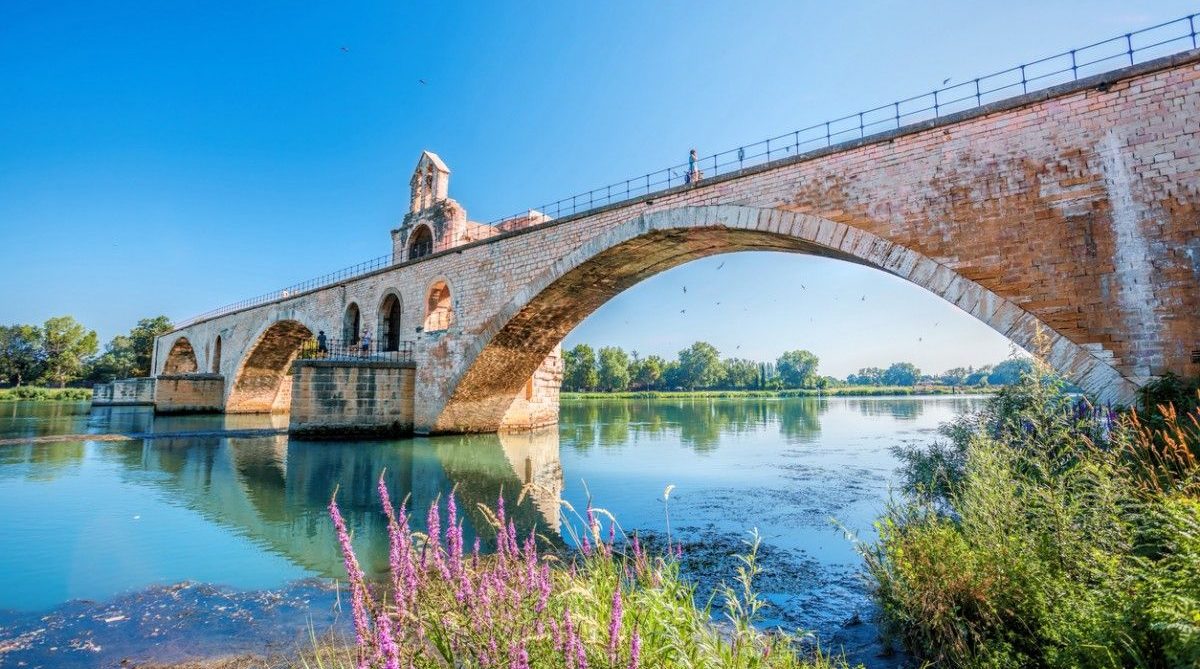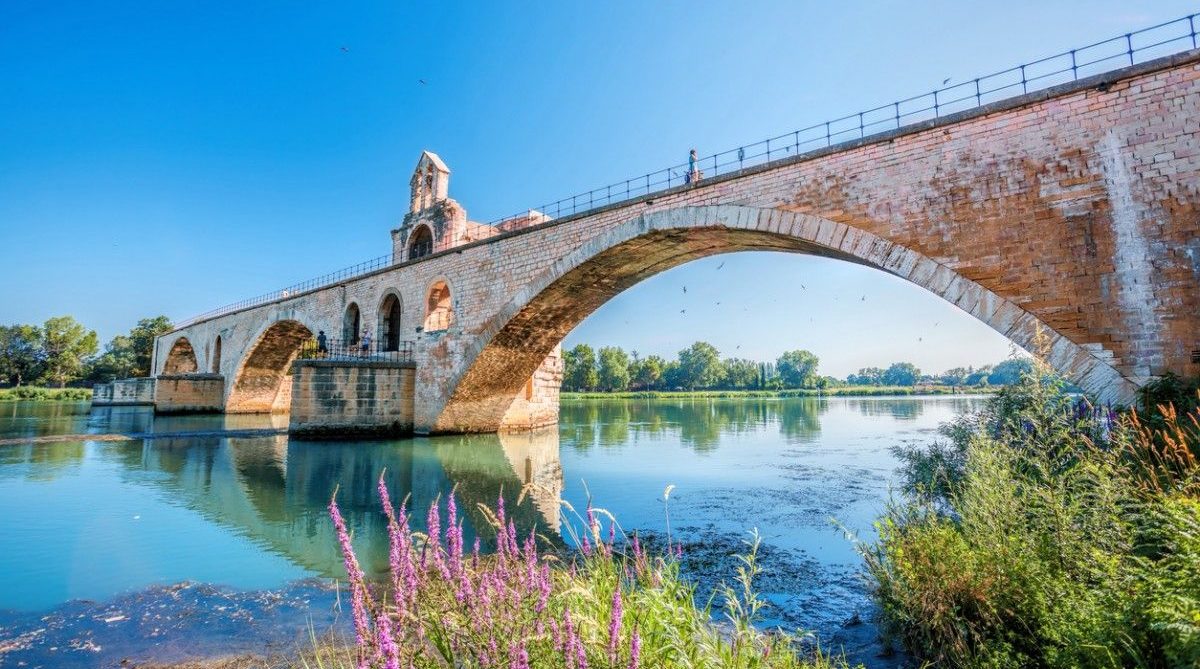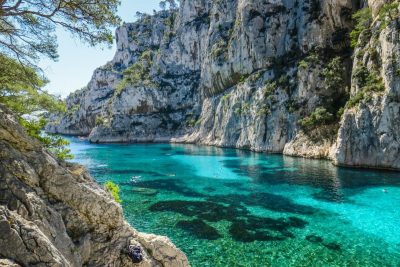 Les Calanques – Unique cliff landscape and lagoons
Les Calanques is a series of mountain cliffs typical of the Mediterranean region. The area of Provence that uses this name is not so far from Marseilles, and stretches about 20 kilometers along the coast, in the direction of Cassis. The cliffs create a beautiful landscape, and are often dandered around gorgeous beaches with chalky white sand. The area was declared a national park in 2012, in part because the flora and wildlife here is unique. For example, you can spot eagles here if you are lucky, and lizards that are up to 60 centimeters long. In Les Calanques you will also find several small and pleasant fishing villages worth stopping by. Many of the restaurants are family-run and pride itself on serving delicious dishes of local specialties.
From the centre of Marseilles to Calanque de Morgiou and the beautiful Beach of Plage Sauvage de Morgiou it is no more than 17 kilometers. The runtime is about 30 minutes.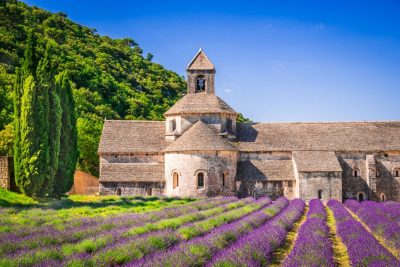 Gordes – Beautiful mountain village
This mountain village is considered one of the most beautiful in France. It is located on a hill near the Vaucluse Mountains, and not too far from Avignon. The settlement is mostly from the Middle Ages, and is well preserved. The center is dominated by a fortress built in 1031, as well as a beautiful accompanying church. Between the small and old houses that people live in yesterday there are narrow cobbled streets, where you will find pleasant cafes, restaurants, and small shops. In the immediate vicinity of Gordes you will find a famous monastery called Notre-Dame de Sénanque from 1148. There you should stop by, among other things, to experience the fields of lavender grown here, a typical fixture in Provence.
The shortest route between Marseilles and Gordes runs via the A6 motorway, and the distance is then about 95 kilometers. The driving time without a stop will be approximately 1 hour and 20 minutes.
Parking and traffic with car hire
Finding street parking in Marseille is not easy if you prefer to put your car in the streets. There are also several areas that are not particularly safe. Burglary in cars is unfortunately quite common, and especially when the vehicle is obviously a rental car. Hotel garages and guarded parking facilities are a better option.
Driving inside the centre of Marseilles can be a bit tiring. The city has a reputation for having more congested traffic than Paris– and the queues can be long especially during rush hour. In addition, not all drivers are equally patient. In Marseilles you can expect to hear a lot of honking with car horns.
Outside Marseilles, and in most of Provence, it is far easier to get around by car rental. You should be vigilant in traffic anyway, but generally speaking, it is safe on the roads of France. The roads are also good, but expect you to pay tolls on the highways. It is also more comfortable to drive on Sundays than during the week. Trucks and trailers are not allowed to move in traffic between 10pm on Saturdays until 10pm on Sundays.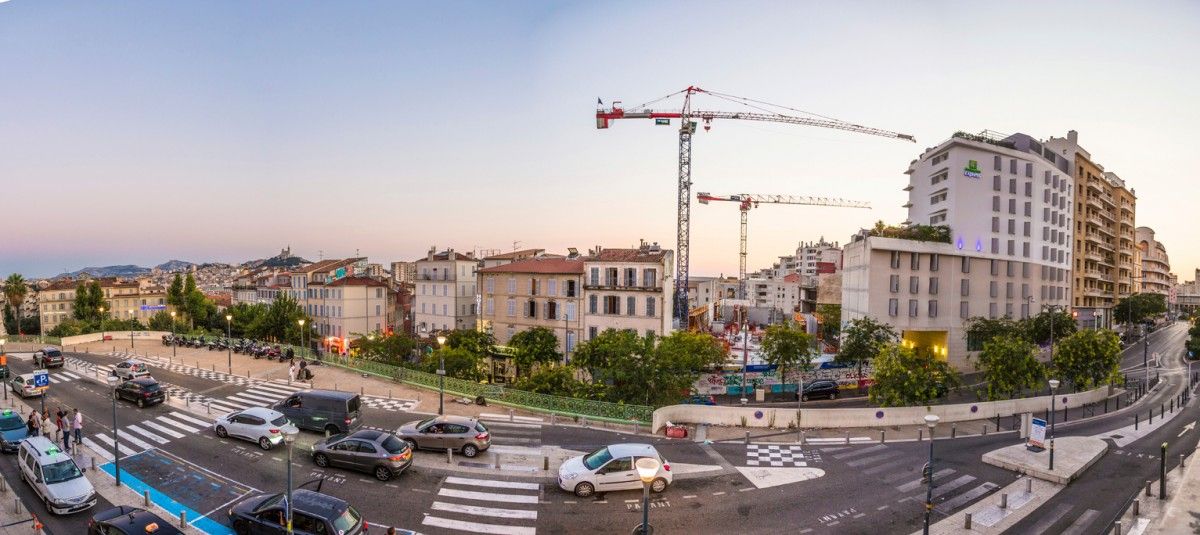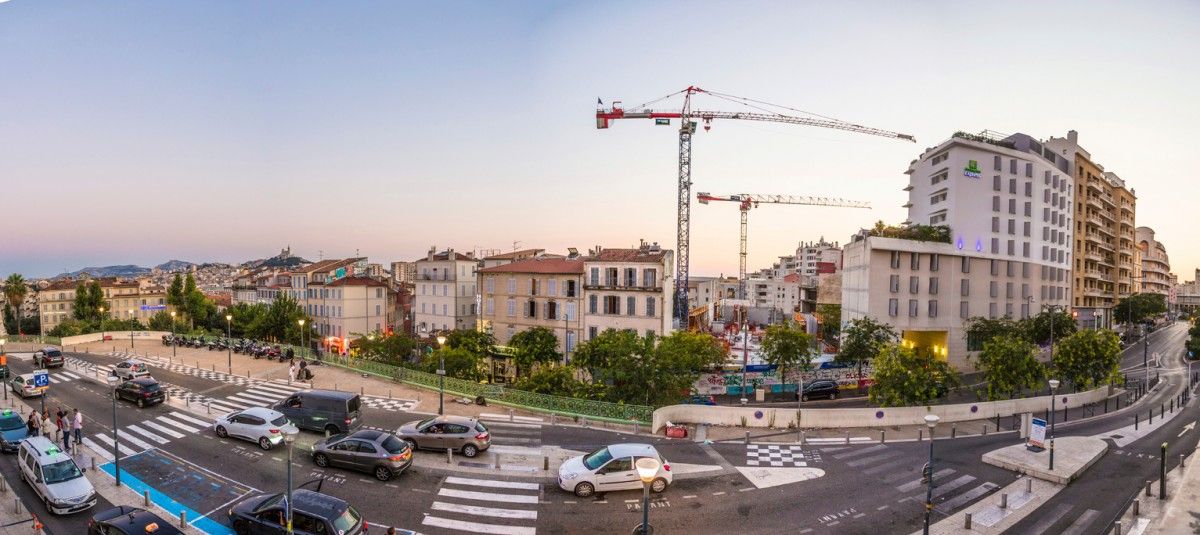 Airport
Aéroport de Marseille Provence is the airport you land at when you go to this part of southern France. It is considered the fifth largest in the country measured in the number of passengers. The airport has two terminals. One serves the largest companies' scheduled flights, while the latest terminal serves preferably low-cost airlines and charter flights. There are direct flights here from many European major cities, and you can also easily reach Marseilles with a stopover in cities such as Paris, Amsterdam, Frankfurt, Zurich and Brussels.
All companies offering car hire at marseilles airport are gathered at a separate centre in Hall 4 in the terminal building. The cars are parked quite close to the center. As of today, there are 11 players at this airport, including Avis, Budget, Sixt, Europcar, Goldcar and Hertz.
It is 25 km from Aéroport de Marseille Provence to the centre of the city. The fastest route goes on the motorway almost all the way forward, and it takes about 25 to 30 minutes to drive.