Car rental Kristiansand
Compare prices and find cheap car hire in Kristiansand from well-known and local car hire companies. Insurances and unlimited mileage are included. Save up to 70% on car rental in Kristiansand through us.
Kristiansand guide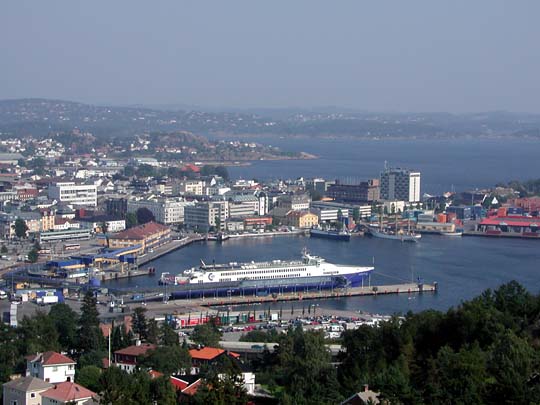 Kristiansand is a municipality in Vest-Agder county, Norway. The city centre itself is located at the end of Otra. Kristiansand has 84,319 (2012) inhabitants and is Norway's sixth largest city.
The center is concentrated around the oldest district called posebyen and Kvadraturen known for its white wooden houses built in grids. In the streets there are many cafes and shops. Kristiansand was a strategically important city when Norway was in union with Denmark because of its proximity to Denmark. Christiansholm Fortress was part of Christian IV's plan for the defence of Kristiansand when the city was founded in 1641, and still stands well preserved. Kristiansand has a cruise port, and there are daily ferries to Denmark.
Attractions
The area has had a settlement way back in time. A well-preserved skeleton of a woman from 6,500 f.Kr has been found in the neighbouring municipality of Søgne. Here lies one of the country's oldest churches, Oddernes Church, from about 1040.
Kristiansand is known as the "summer city" due to a good climate and a large influx of tourists during the summer months. In particular, dyreparken located 13 km east of the city centre is very popular and the second most visited tourist attraction in Norway after Holmenkollen. Here you will also find the popular Cardamom City. Kristiansand's fishing pier is another attraction during the summer months.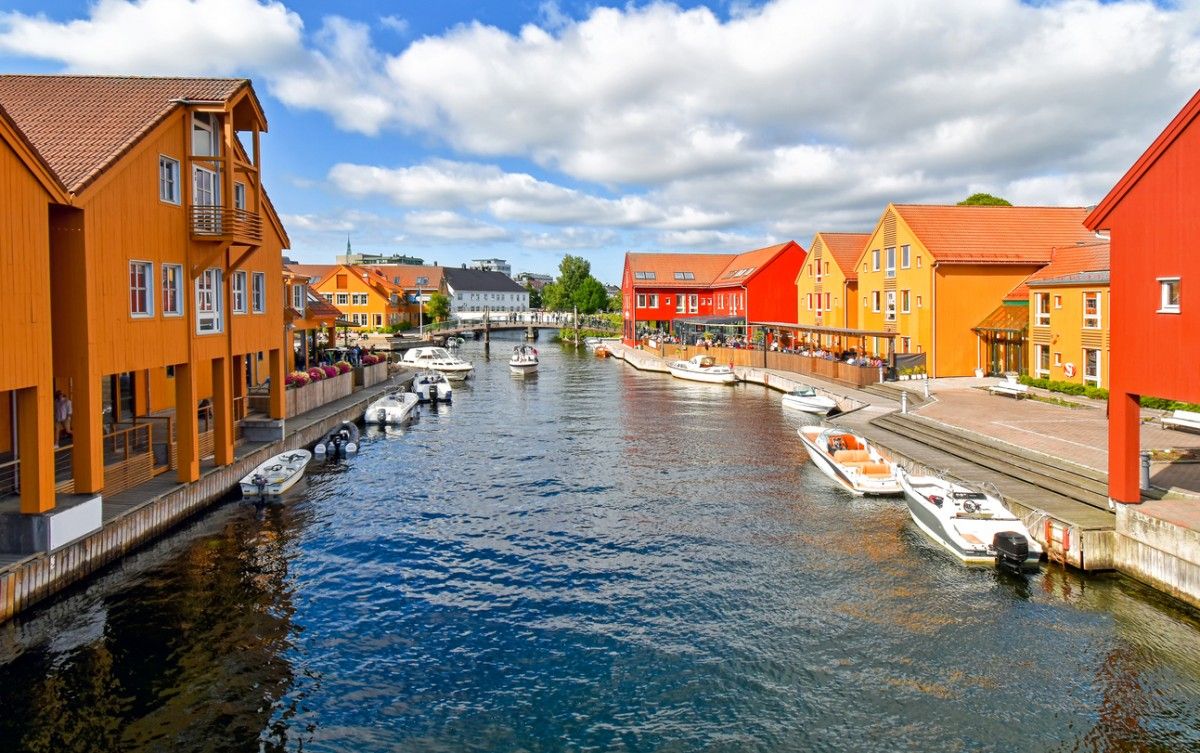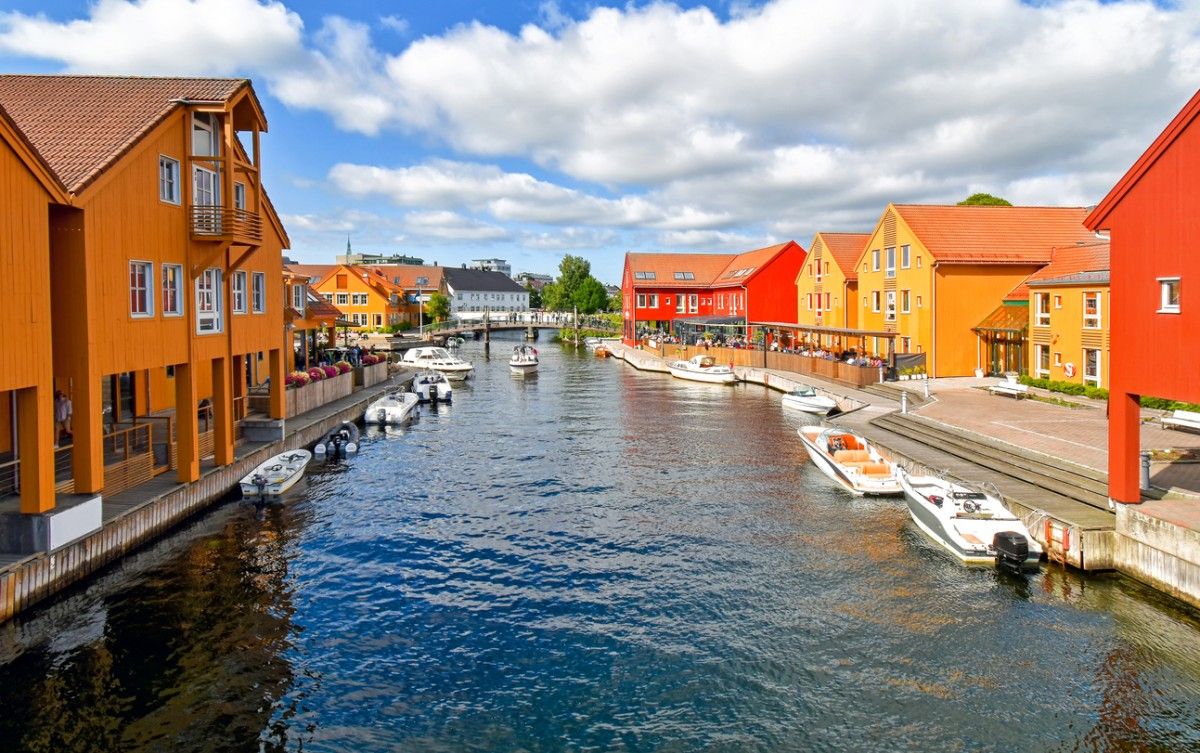 Explore Kristiansand with car hire
Southern Norway and Kristiansand are often associated with white-painted houses, summer idylls, wooden boats and fried mackerel. However, it is not only along the coast you find the unique experiences, but also up in the valleys and mountains of Agder county. With car rental, you can quickly get to a variety of places that provide unique experiences you won't find anywhere else in the country. Here is a small selection of easy-to-complete rides.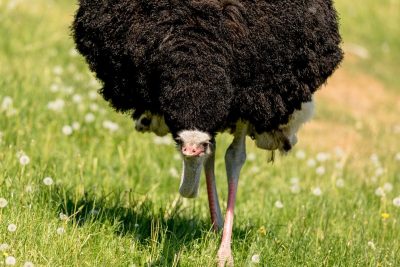 Kristiansand Zoo – Theme parks in a row
A few kilometres east of Kristiansand city centre you will find an eldorado for those who are children or childish at heart. There is the Zoo in Kristiansand, right next to Kardemommeby, Hakkebakkeskogen, Båtbasaren tivoli, Kjuttaviga with Captain Sabretooth as manager, and The Water Park with many pools and water slides. The zoo has many great species to show off, including lions, crocodiles, cheetahs, Siberian tigers, and the chimpanzee Julius who is considered a national celebrity in Norway. You can also greet the Nordic species wolf, lynx and wolverine here, as well as a number of other great animals.
The zoo is located no more than 11 kilometers outside the center of Kristiansand. There you will drive in around 10 to 12 minutes by car rental.
Lindesnes Lighthouse – Norway's southernmost point
Lindesnes Fyr has all listened to the mentioned on the weather forecast on the radio. This is Norway's southernmost point if we stick to the mainland, and the lighthouse is among the oldest. A lighthouse was first built here in the 1650s, but the current version came about after a redevelopment in 1915. During World War II, when the Germans occupied Norway, Lindesnes was considered an important strategic point. Then fortifications were built here, with tunnels and machine gun nests that can still be seen today. There is also a museum at Lindesnes Lighthouse that reports on the seaside in Norway, and a centre for visitors, with cinema, exhibitions, museum shop and café. It is also possible to rent an apartment in the lighthouse keeper's residence,sleeping up to 6 people.
It is 84 kilometers from Kristiansand to Lindesnes Lighthouse if you drive the fastest way (European route 39). The runtime is about 1 hour and 20 minutes.

Trollpark Evje – Activity park for the whole family
This activity park just north of Evje appeals to anyone with a playful mind, and is suitable for people between the ages of 3 and 103. Here everyone can get to unfold in the beautiful scenery, with rafting, climbing, wave surfing, kayaking and canoeing,and much more. The centre also has such things as paintball pitch, water park, climbing castle for children, escaperoom, and much more suitable for small and large groups. You can stop by and have fun for just a few hours if you like, or book a cabin or tent for accommodation. Trollparken is also a very good starting point whether you want to go cycling or hiking into the forests or up on the mountains that are located around the valley.
Trollpark Evje is located just as forbidding the village of Evje, and about 72 kilometers just north of Kristiansand. The driving time is approximately 1 hour.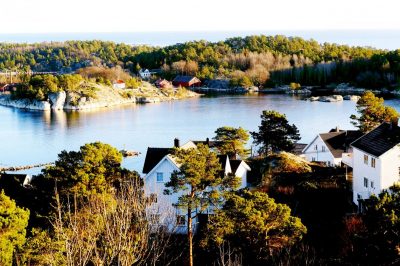 Lyngør – Southern Norway's most beautiful small town?
There are many beautiful small towns in Southern Norway, and it may not matter as much which of the people you visit. Nevertheless, many believe that should you first visit one of them, this should be Lyngør. The settlement is divided into a number of small islets that are close-in-close with each other. In the past, sea captains often lived here, in pretty small and white-painted houses, with picket fences around danderte gardens. Lyngør has also played a small role in world history. There were naval battles taking place in the strait during the Napoleonic War,where the British Navy made a short process with the joint Danish and Norwegian warships. The small town has won awards for its beauty, and also as the best preserved village in Europe.
It is 103 kilometers from the city center in Kristiansand to Lyngør. On the way there you will pass many other small places that are great to visit. The drive without stopping will take you about 1 hour and 20 minutes.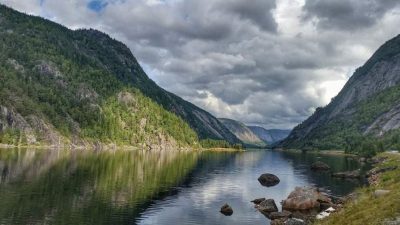 Setesdal – Experience some of the most beautiful villages in Norway
Setesdal is the name of the valley that stretches between Evje and the ski resort of Hovden, and where the River Otra flows through. Along the road there are several cozy and small villages that are worth stopping by. One of these is Byglandsfjord, where you can get a ride on the water with the old wood-fired steamer DS Bjoren. In Rysstad lies the Setesdalsmuseet which has exhibitions showing the culture, history and traditions of this part of Norway. In Valle you will find a top climbing centre and Rygnestadtunet, a listed farm with buildings from the 16th century. There is also a rich selection of fishing spots, bathing spots and other nature experiences in Setesdal. If you want to spend more time than a day trip, you'll find everything from campsites with cottages to luxury hotels in the valley.
From Kristiansand to Byglandsfjord at the beginning of Setesdal, it is about 75 kilometers. The route is about 1 hour and 10 minutes.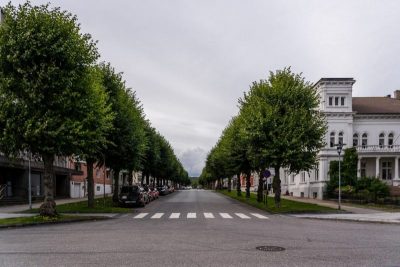 Parking and traffic with car hire
Parking in Kristiansand is about the same as in Norway. In the city centre, you will pay a fee on vending machines if you find a free marked space in the streets. On weekdays it is free to park in the city center, between 17:00 and 08:00 in the morning. On weekends it is free after 13:00 on Saturday, and until Monday morning. The alternative is one of the many parking garages. In the city centre you will find over 10 of these, or privately operated outdoor parking facilities.
Driving in the centre of Kristiansand is easy if you are used to traffic in Scandinavian cities. Most of the city centre is also square, making it easier to orient. During rush hour there may be some traffic jams, especially in the streets leading to on the E18, and then in both directions, as well as Setesdalsveien in a northerly direction.
Airport
Kristiansand Airport is also called Kjevik in the folk mouth. This is an international airport serving Agder county and large parts of the southern part of the Norway. From Kjevik there are direct flights to Oslo, Bergen, Stavanger and Trondheim,as well as to foreign cities such as London, Gdansk and Amsterdam. There are also many charter flights based at Kristiansand Airport. In total, the airport serves in excess of one million passengers a year.
As of today, only four car rental companies are represented at the airport in Kristiansand. These are Sixt, Hertz, Avis and Budget. The latter two share counter and staff, something Avis and Budget also do at a number of other airports. The terminal building is not particularly large, and it is easy to find the car hire companies.
Kristiansand Airport is located about 16 kilometres north of the city centre. The driving time with car rental is about 20 minutes if you choose the shortest route that goes via Timenes and Hamre.