Car rental Tromsø Airport
Find the best price for car hire in Tromsø Airport. Goautos.com compares prices from well-known car rental companies in Tromsø Airport. Search now to see the best deals!
Tromsø Airport guide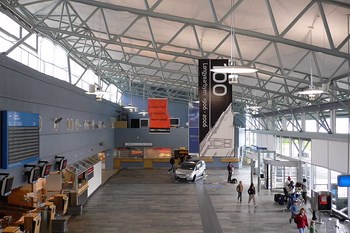 Tromsø Airport Langnes (TOS) is an airport located 3 km west of the center of Tromsø.In 2009 it contained a little over 1.6 million passengers.
The airport covers the area around Tromsø and the northern and central parts of Troms. For routes to airports in Finnmark is Tromsø Airport, a major hub, because most passengers are further south towards Trondheim or Oslo.
The airport was officially opened in 1964. The terminal building has been modernized several times after that (in 1977, 1985 and 1998), but some of the original buildings are still in use. In connection with the recent development got new airport control tower, expanded infrastructure, extended runway and direct pedestrian bridges from the gate to the plane.
The companies and routes operated from Tromsø Airport is Air Baltic (Riga), Nordavia (Arkhangelsk, Murmansk), Norwegian ( Bergen, Bodø, London, Oslo, Oslo and Trondheim ), SAS (Alta, Bodø, Longyearbyen, Oslo and Trondheim – and the summer route to Stockholm ), Widerøe (Alta, Andenes, Bergen, Berlevåg, Bodø, Båtsfjord, Hammerfest, Harstad-Narvik (Evenes), Hasvik, Honningsvag, Kirkenes, Lakselv, adventure camp, Narvik (Framnes), Sandefjord, Stokmarknes, Sørkjosen Vadsø and Vardø).
The public facilities are usable, and there are a small number of shops and restaurants in the terminal building. Otherwise, the hotel offers free wireless internet and postal and banking services.
To get from the airport to downtown Tromsø can take bus or taxi – and want to hire a car at Tromsø Airport, there are 5 international car rental agencies to choose from: Avis, Budget, Europcar, Hertz and Sixt.
There are no hotels at the airport area, but the offer in and around Tromsø is otherwise good and varied.