Car rental Tromsø
Compare prices and find cheap car hire in Tromsø from well-known and local car hire companies. Insurances and unlimited mileage are included. Save up to 70% on car rental in Tromsø through us.
Tromsø guide
Tromsø is, with a population of around 66,000 (2010), Norway's 7th largest city. largest city. The town is administrative centre in Troms county, and is located mainly on Tromsøya – but also with districts on Kvaløya and on the mainland (Kvaløysletta and Tromsdalen).
Attractions
Tromsø is particularly famous for the midnight sun, the polar light and the Arctic Cathedral (from 1965). Since the 19th century, the city has also been known as the "Parisof the North", due to its many restaurants and vibrant nightlife. More locally, it is known as a student city with the world's northernmost university (6,000 students) – and the exciting science centre Polaria. Sami language, Northern Lights research, polar research, telemedicine, fisheries research, music and engineering are particularly popular disciplines. There are also several colleges in the city.
Since 2004, buktafestivalen has been an annual recurring musical event. It will be held in Telegrafbukta in July.
Tromsø Alpinsenter is a ski resort in kroken district, where there are also good conditions for cross-country skiing in the winter season.
The weather type in Tromsø is evenly over cool, on the border between arctic and temperate climates. The Gulf Stream has a big influence here, and therefore the fjord does not freeze. Normally, the temperature varies between -5 and +15 throughout the year, with a gennom average in January of -4 and in July at +12.
There is polar night between 21 Nov. and 21 Jan. and midnight sun between May 21 and July 21. During these periods, the difference between day and night temperature is very small.
Explore Tromsø with car hire
If you have a rental car in Tromsø and want to see more of nord-Norway, there are nature experiences you will end up with first and foremost. However, the distances can be quite a bit of a drag, which is quite common on this side of the globe. There are not many people living in the country's northernmost counties, and the distance between villages and towns can be large. The comfort is that you will drive through unique landscapes along the way, with opportunities for eating breaks and accommodation if needed.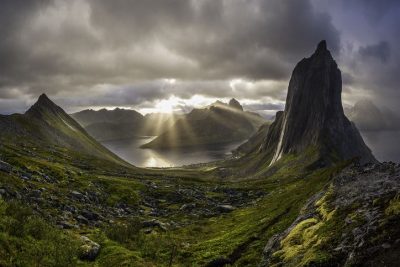 Senja – A natural gem in Northern Norway
One of the best drives you can take from Tromsø by car rental goes to the island of Senja. The easiest way to get there in the summer months is to drive across Kvaløya, and then take the ferry to Botnhamn. On Senja you can choose from a variety of cozy fishing villages and villages. Several of these have developed very in recent years, with fishermen's cabins, hotels and cabins for visitors,and all sorts of activities focused on nature. Whale watching and fishing trips are among the most popular. In the summer there are also several events on Senja that are both fun and different, such as the intimate Kråkeslottfestivalen and Senja Culture and Fishing Festival which takes place in Gryllefjord. If you have not been to Senja before, consider driving there when visiting Tromsø. The island may be a bit of a memory of Lofoten, but is far from as congested by tourists.
From Tromsø to the ferry port on Brensholmen it is about 55 kilometers. The drive and will take you about 1 hour.
Please note that the ferry between Brensholmen and Botnhamn on Senja runs only from 30 June 2018. April to the first week of September. The number of crossings is 6 a day.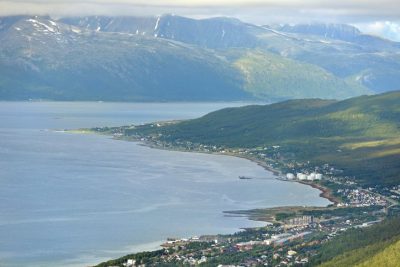 Ringvassøya – Short distance to fishing trips and nature experiences
Ringvassøya is just a short drive from Tromsø and is ideal for a car rental day if you want to experience beautiful nature. Although The island is Norway's 6th largest island. Largest, there are no more than about 1300 people living here. Most of these are located in the small villages of Hansnes, Hessfjord, Skarsfjord and Indre Kårvik, where tourism has become part of the livelihood of several. If you want to take a stay on Ringvassøya you will find holiday homes and cabins for rent. Some of them offer boat trips for those who want to try their hand at deep sea fishing,or go whale watching. You will also find cabins for rent where you can borrow fishing equipment if you want to try fishing for trout in the freshwater and rivers of the island.
From Tromsø to Hansnes on Ringvassøya it is about 63 kilometers. The driving time is about 1 hour and 5 minutes.
Lyngen Alps – Eldorado for all-year-round summits
This mountain range offers some of the finest peaks in Norway,attracting skiers, climbers and hikers from all over the world. Top tours on the Lyngen Alps are perhaps most popular among those who engage in extreme forms of skiing, but several of the peaks are also available for those who are less experienced. In summer, this is also an area where you can experience the Northern Norwegian nature and the midnight sun at its most beautiful. The ski season usually lasts from October to the end of April, with March and April being the best months. The midnight sun can be enjoyed from May until mid-August. Remember that all mountains can be whimsical, especially in winter, and it is important to ensure safety. If you are not very mountainous you should book the summits with one of the many experienced companies offering guided tours of the Lyngen Alps.
The shortest route between Tromsø and Lyngen is about 77 kilometres. The driving time including the ferry ride between Breivikeidet and Svensby is about 1 hour and 45 minutes.
You can also drive to Lyngen without having to resort to a ferry. Take off to the south when you reach Fagernes, and follow the signs from there to Lyngen. The distance is then 132 kilometers, with a driving time of about 2 hours.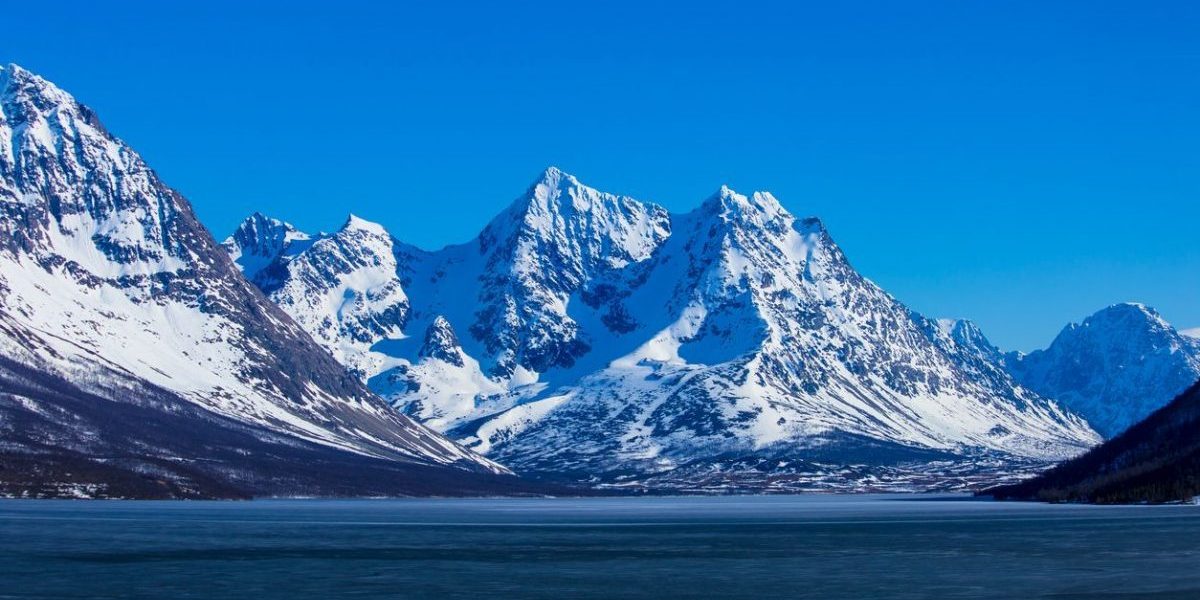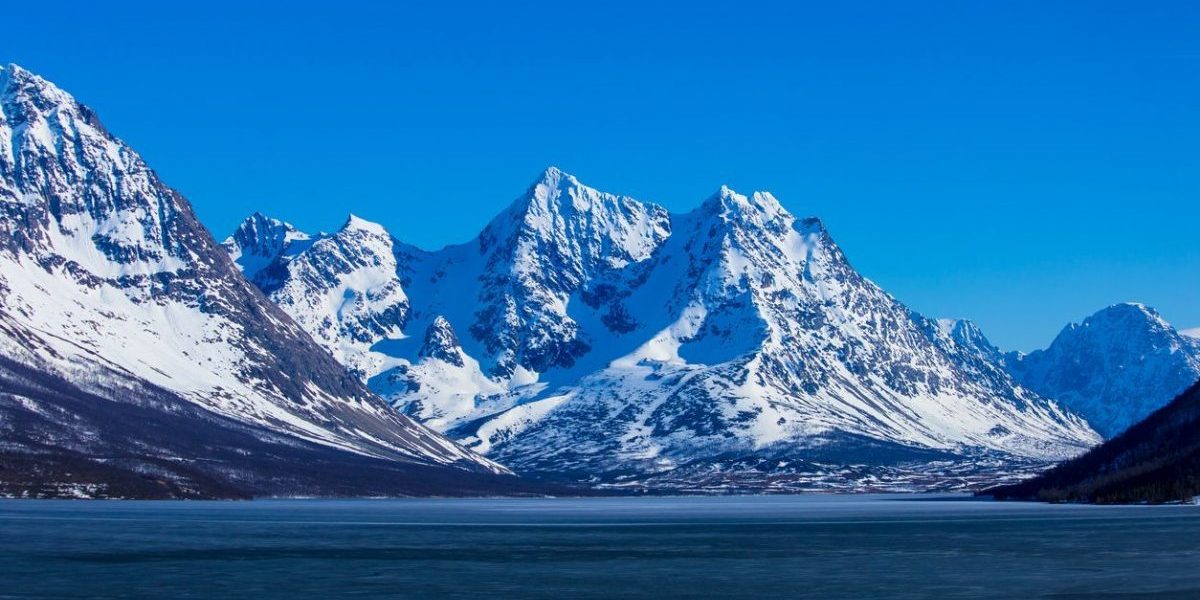 North Cape Plateau – Visit the end of the world
In fact, the cliff is not the North Cape to europe's northernmost point, although it is often marketed as this. The title actually belongs to knivskjellodden which is close by. The North Cape plateau is still more interesting to visit, and offers a stronger nature experience in the eyes of many. On the plateau there is a visitor center 307 meters above sea level. From there you get a dazzling view of the sea outside, which is especially beautiful in summer when the midnight sun is on the horizon. However, the drive to the North Cape from Tromsø is quite long, and many prefer to spend more than a day. The beauty of it is that the trip goes past many nice small villages, by fjords and mountains, and with a number of beautiful places to stop at.
From Tromsø to the North Cape in Finnmark it is 615 kilometers. The driving time is about 8 hours and 30 minutes.
Parking and traffic with car hire
In Tromsø, which is otherwise in most of the Norway, you can only park in the streets where there is a sign with P. The sign tells you how long the car can stand, and at what times a fee is required. Normally, parking spaces are charge only during working hours on weekdays, but note that in some places you will have to pay 24 hours (this will appear on the sign). You pay the fee on the parking machines that are on the sidewalks and leave the receipt clearly visible in the car's windshield. There are also several parking spaces in the city centre where you can be parked 24 hours a day at a surcharge.
Traffic in Tromsø's city centre is virtually never a problem. It's easy to findyour way , motorists are mostly friendly and polite, and you're unlikely to encounter any difficulties. Please note that virtually all stops for pedestrians in Norway and fines for failing and doing so can be high.
Airport
Tromsø Airport is located on Tromsøya itself, with a short distance to the city centre. The airport is a hub for the flights to Finnmark, and also has direct flights to Oslo, Bergen, Stavanger and Trondheim,among others. In addition, there are a small number of international flights from Tromsø, including to Frankfurt, Helsinki, Gdansk and Krakow. In the summer months there are also flights to other cities in Europe, such as London, Brussels, Zurich, Munich and Amsterdam.
The six companies that offer car hire at the airport in Tromsø are gathered on the terminal building's ground floor (ground floor), close to the check-in desks. As of today, this is Avis, Europcar, Budget, Hertz, Sixt and Rent A Wreck.
From Tromsø Airport to the city centre it is only 4.7 kilometers. The runtime is about 10 minutes.